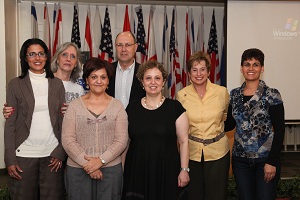 The Hadasssah University Medical Center's 2012 Nancy Falchuk Nursing Scholarships were awarded in March to Odeya Tel-Tzur, Deputy Head Nurse at the Judy and Sidney Swartz Center for Emergency Medicine; Meirav Kiviti, Oncology Day Care Nurse; Yehudit Lalum-Har'el, Head Nurse in the Pediatric and Surgery Outpatient Clinic at Hadassah Hospital-Mount Scopus; and Sigalit Caspi, Head Nurse in the Emergency Room at Hadassah-Mt. Scopus. The Falchuk scholarship, which enables the nurses to pursue advanced study, conduct research or give a presentation at an international conference, was created through donations from Hadassah International units around the world in tribute to Outgoing Hadassah International President, Nancy Falchuk, when she completed her term in 2004.
Ms. Tel-Tzur has been an emergency room nurse since 2000. During the last two years, she has led a working group within a large project concerning staff members' perception of the Shift Head Nurse. Ms. Kiviti began her career at Hadassah in 1990 in the Department of Surgery. A specialist in Oncology Nursing, Ms. Kiviti recently completed an Israel Ministry of Health course on the use of cannabis for medical purposes. She is leading a project regarding the expansion of nurses' authority to give certain additional treatment to patients.
Ms.  Lalum-Har'el, who began her Hadassah career in 1976, has been a nurse in the emergency room and the departments of pediatrics and epidemiology. She has worked as head nurse in the outpatient clinic since 1994.  For the last two years, she has led a research project investigating the relationship between weight loss and the long-term success of bariatric surgery. Ms. Caspi has been a nurse in general surgery, intensive care, and the operating room since she began at Hadassah in 1983. She has served as the Emergency Room Head Nurse since 2002. She is recognized for creating an "esprit de corps" within a team of veteran and young staff.