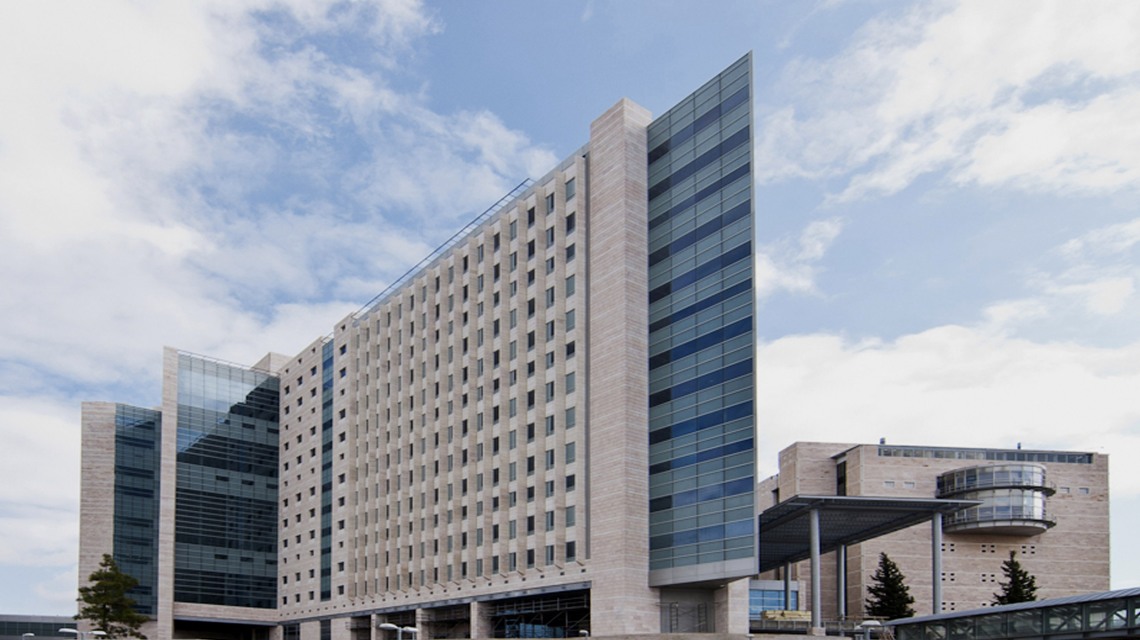 THE HADASSAH MEDICAL ORGANIZATION
Building A Better World Through Medicine
From the very beginning, Hadassah's pacesetting progress has set the standard for excellence in medicine in Israel. An impressive list of trailblazing achievements is testimony to Hadassah's vision and mission. Today, the Hadassah Medical Center continues to march forward, making the world a better place through healing, teaching, and research.
Transcending politics, religion, and geographical boundaries to enhance world health, the Hadassah Medical Center was nominated for a Nobel Peace Prize.
Hadassah Medical Organization (also known as HMO) is comprised of the two Hadassah Hospitals (Ein Karem and Mount Scopus).
Hadassah Hospitals in Israel
Since the establishment of Hadassah's first hospital on Jerusalem's Street of the Prophets in 1918, the Hadassah University Medical Center has expanded to include two University hospitals in Jerusalem – located on Mt. Scopus and in Ein Karem. Its two hospitals serve annually over 1,000,000 patients, having over 1,300 beds, 45 operating theaters, nine specially oriented intensive care units, and five schools of allied medical professions, owned and operated in collaboration with the Hebrew University.
With its 45,000 operations/procedures annually, its Nobel Peace Price nomination, its 12 Israel Prize wins, the over 2,000 scientific publications in the past 5 years, the 40-50% of bio-medical research done in Israel at Hadassah, over 200 patents, 150 clinical trials, and 15 start-ups, Hadassah can be considered one of a kind!
Hadassah's extensive network of satellite services provides community health care programs, specialized outpatient clinics and services in several city neighborhoods and nearby towns, as well as consultation clinics in the center of Jerusalem and in Tel Aviv.
Davidson Tower
The 19-story Sarah Wetsman Davidson Tower on the Ein Kerem campus is a tangible example of Hadassah's commitment to the people it serves. This new in-patient facility is designed to address today's needs, tomorrow's breakthroughs, and evolution in patient care for years to come.
The Sarah Wetsman Davidson Hospital Tower completes the modern campus of Hadassah Ein Kerem and is a fitting addition to the Cancer Center's Sharett Institute of Oncology, the Charlotte R. Bloomberg Mother and Child Center and the Judy and Sidney Swartz Center for Emergency Medicine.
The Rehabilitation Center
Jerusalem is one of the fastest growing and diverse cities in the country. In light of this reality, it is a permanent challenge to grow resources to meet the burgeoning need for rehabilitation.
At the time the original rehabilitation center was built half a century ago, Jerusalem's population was less than one third its current size. Today, with over 1.2 million inhabitants, it represents one of the fastest growing populations in the country.
Due, in large part to its demographic composition, the nation's capital is not among the richer cities in the country, and access to resources is far more challenging. The average household income in Jerusalem falls under 50% of corresponding household income in Tel Aviv
The Rehabilitation Center at Mount Scopus is the only facility serving over 1.2 million residents in the greater Jerusalem area. Built half a century ago, the Center has not been able to keep up with the city's population growth. The current center is outdated and exceeds capacity. Patients in need of immediate rehabilitation are confronted with a waiting time which can last as long as three months for treatment and risk longer and more complicated rehabilitation due to the lapse of time.
Today, we are realizing a vision of a new and comprehensive Rehabilitation Center at Mount Scopus. To meet the growing demand for top quality rehabilitative services for decades to come, the new Center will be three times its current size, encompassing approximately 19,500 square meters. The new Center will be a friendly and supportive environment with direct access to a host of multidisciplinary treatments available at the hospital and often necessary during the rehabilitation process. The new Center will be spacious and warm to encourage movement, independence, and a healthy state of mind.
"Our ability to walk, use our hands and move our bodies can often be taken for granted, … until we lose it. The New Rehabilitation Center at Mount Scopus will help people regain hope and their physical capabilities… restoring their independence and dignity." – Dr. Tamar Elram, Director Hadassah Hospital Mount Scopus.
The Wohl Institute for Translational Medicine – at Hadassah Ein Kerem. Applied Research for Personalized Medicine.
The Wohl Institute offers state-of-the-art imaging technologies for preclinical research. The research at the Wohl Institute will promote the development of dedicated medications and treatments for the welfare of patients. The Wohl Institute will provide pre-clinical services to researchers from Hadassah Hospital and other Israeli hospitals and universities.
The Institute offers pre-clinical imaging technologies which are the first of its kind in Israel.
$6.5m. out of the $8m. building project are a generous donation from the Wohl Legacy in the UK.
Among the scientists, researchers and dignitaries attending today's (Thursday, October 24) inauguration ceremony of the Wohl Institute for Translational Medicine at Hadassah Ein Kerem were Hadassah Medical Organization Director-General Zeev Rotstein; Wohl Foundation's Trustees: Prof. David Latchman, Sir Ian Gainsford, Mrs. Ella Latchman, Mr. Martin Paisner and Mr. Daniel Dover;  Hadassah Research Fund Director-General Eyal Mishani; Dean of the Faculty of Medicine Prof. Dina Ben-Yehuda; Mark Addleman, Chief Executive of Hadassah UK as well as heads of universities, representatives of the National Science Foundation, the Jerusalem Development Authority, the British Embassy in Israel.
This new multidisciplinary institute is the result of partnership among the Wohl Legacy, Hadassah International UK, and the Hadassah Medical Organization.
The Wohl Institute for Translational Medical Research will serve as an infrastructure hub for studying models of human diseases such as cancer, diabetes, multiple sclerosis, metabolic diseases.
The Wohl Center offers state-of-the-art technologies enabling visualization, digitization, and image analysis spanning from molecular resolution up to in-vivo imaging in order to elucidate the underlying diseases mechanisms and further the development of tailored drugs.
The Institute will provide imaging services using some of the world's most advanced imaging devices. These include:
Ultrasound combined with a photo-acoustic unit for non-invasive monitoring of changes in blood flow, cardiac problems and changes in oxygen levels in the tissue.
An integrated PET/CT device to test anatomical changes (particularly in bones and internal organs) together with metabolic and molecular changes.
An Integrated MRI/PET device, which includes a 7-tesla magnetic resonance imaging scanner with PET insert– the first of its kind in the country to enable high exactitude monitoring of anatomical changes while acquiring PET images demonstrating cancer, metabolic and molecular changes.
Optical Imaging: Two fluorescence and luminescence IVIS devices that enable high-sensitivity and accurate tracking of cells/molecules.
Micro CT that enables imaging of bone changes in non-invasive, single micron precision.
According to Prof. Rinat Abramovitch, Director of the Wohl Institute for Translational Medical Research, alongside the imaging devices, the institute will include biological and chemical laboratories and image analysis rooms that will allow all studies to be conducted under one roof.
Prof. Abramovitch added that Hadassah currently operates two cyclotron facilities (particle accelerators) that allow synthesis of unique and short-lived materials for use in PET. Additional services that are available on the Ein Kerem campus, includes experimental surgery, behavioral laboratories, drug development and pathological services.
Treatment in Jerusalem, Israel
The combined skills of more than 5,060 health care professionals – 1,023 physicians, 1,820 nurses, and over 500 paramedical and 1,500 support staff – bring health and hope to the people of the region and far beyond.
Hadassah practices translational medicine, combining state-of-the-art medical and surgical care with top-level interdisciplinary research and development activity. Hadassah's physicians take their patients' problems into the laboratories, grapple with their predicaments, consider possible solutions, and test hypotheses through the full range of clinical trials to enhance their diagnosis and treatment.
For over nine decades, Hadassah has extended its hand to all, without regard for race, religion, or ethnic origin. People from all the countries in the region turn to Hadassah for hope and help. They are treated alongside patients from the Mediterranean Basin, Europe, South America, and the United States.
INTERNATIONAL PATIENTS
Medical treatment at Hadassah Hospital, Israel
Experience and Excellence for the International Patient
Medical Tourism at Hadassah Israel
In an era when disease crosses borders with impunity, it is no surprise that every year thousands of international patients across continents and countries to travel to hospital in Israel for medical treatment in Israel at Hadassah hospital.
A world-class university medical institution, Hadassah Hospital has achieved a global reputation for excellence in caring and curing, its innovative approach to complex medical problems and the cooperative efforts of the medical and research teams to provide individualized attention to individual problems.
Incorporating all medical and surgical sub-specialties, the Hadassah University Hospital is a tertiary care referral facility, known for pioneering new medical techniques.
People from all the countries in the region turn to Hadassah hospital for medical treatment in Israel. They are treated alongside patients from the Mediterranean Basin, Europe, South America, and the United States.
At Hadassah hospital the patient comes first — before, during, and after his hospital stay. His comfort and medical treatment are our primary concern. Family and friends receive the same personal attention, as we strive to make the medical treatment experience in Israel as pleasant as possible.
The Medical tourism at Hadassah hospital is focused on the needs of the international patient.
We will be happy to provide you with additional information and would welcome your inquiries.
For more information:
Tel: +972-2-6779111
Fax: +972-2-6777500
Email: international[@]hadassah.org.il
24-Hour Hotline +972-50-40-48-48-0
The Hadassah Medical Center is committed to Healing, Teaching, and Research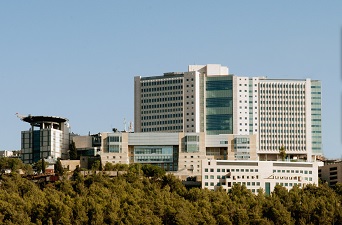 HMO MISSION STATEMENT
Founded by Hadassah, the Women's Zionist Organization of America, the Hadassah Medical Center pioneered the development of standards and practices of health care in Israel.
Its main focus and its health care activities are in Jerusalem, and its heritage and emotional links are deeply rooted in the land of Israel and its people.
Hadassah Medical Center is also a bridge to peace. It forges links between patients of all nationalities, races and religion who come to its doors for healing.
In this respect Hadassah Medical Center is committed to excellence:
Excellence in compassionate and advanced health care consistent with humane and cost-effective principles,
Excellence in research by which the frontiers of medicine are advanced and mankind benefits.
Excellence in teaching by which the future generations are assured of the highest quality of care and scholarship.