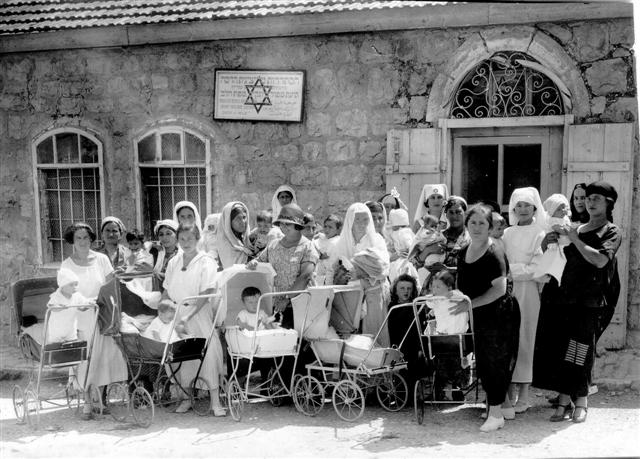 HISTORY
Hadassah International was created in 1983 as the global arm of Hadassah in the United States of America (Hadassah USA). Rarely in the history of humanitarian movements has there been a volunteer organization quite like Hadassah. It was born out of a small study circle of American Jewish women who were distressed by the public health conditions in Palestine. Determined to translate their concern into action, Henrietta Szold led her study circle to create Hadassah. The fledgling movement, established on the Jewish festival of Purim in 1912, was named after Queen Esther, the holiday's heroine, whose Hebrew name was Hadassah.
A Century of Hallmarks in Health Care
1913 Two nurses arrive in Palestine with a two-fold goal: to provide mothers and their new babies with proper nutrition and to eradicate trachoma, a devastating eye disease.
1918 Hadassah, together with the Federation of American Zionists, forms the American Zionist Medical Unit, which sails for Palestine, bringing desperately needed drugs, medical instruments, and supplies.
The Unit, comprised of 45 doctors, nurses, dentists, and sanitary workers, initiates American style health and welfare programs. They establish Hadassah hospitals in Jaffa, Tiberias, Safed, and Jerusalem.
1918 The Unit founds the Nurses' Training School, Palestine's first (renamed the Henrietta Szold-Hadassah School of Nursing in 1936).
1921 Hadassah opens a hospital in Tel Aviv, that city's first house of healing.
1939 Hadassah University Hospital opens on Mount Scopus in Jerusalem.
1948 Hadassah is forced to leave its hospital on Mount Scopus, unable to ensure the safety of its patients or health personnel in this war-torn region. Hadassah quickly improvises five makeshift hospitals in temporary quarters around Jerusalem.
1949 The Hebrew University-Hadassah School of Medicine (Israel's first medical school) opens.
1953 Hadassah pilots a family and community health center, which becomes a model for community health throughout Israel.
1958 Hadassah begins sending ophthalmologists to African countries to help eradicate eye diseases.
1961 Hadassah opens a new hospital in Jerusalem in Ein Kerem.
1967 Jerusalem is reunited under Israeli control and Hadassah commits to rebuild its hospital on Mount Scopus.
1970 Hadassah establishes the Hebrew University-Hadassah School of Occupational Therapy. The International Master of Public health Program is created.
1976 Hadassah opens the Daniel and Florence Guggenheim Rehabilitation Pavilion, the Rosalie Goldberg Neonatal Intensive Care Unit, and the Moshe Sharett Institute of Oncology.
1977 Hadassah performs Israel's first successful bone marrow transplant.
1980 Braun Hebrew University-Hadassah School of Public Health and Community Medicine opens.
1983 Hadassah International is born. A visionary past president of Hadassah USA, Bernice S. Tannenbaum, conceived of going beyond the borders of the United States to cultivate support for the Hadassah Medical Center. With unanimous backing of the parent organization, the Hadassah International Medical Relief Association, ltd. (HIMRA) was born. Its mission is:
To provide support for the Hadassah Medical Center in Israel so that it remains an academic center of excellence for healing, teaching, and research.
To enhance the image of Israel through the work of the Hadassah Medical Center worldwide.
To serve as a bridge to nations through medicine.
1986 Ina and Jack Kay Hospice opens.
Hadassah opens Jerusalem's first regional anonymous AIDS testing center.
1989 Hadassah creates an adolescent health center to address teens' special needs.
Hadassah opens Department of Complementary Medicine.
1991 Rapid Response Trauma Unit opens.
1999 Goldyne Savad Institute of Gene Therapy is established.
2001 Hadassah opens the Patricia and Russell Fleischman Women's Health Center.
2003 Hadassah Human Embryonic Stem Cell Research Center is established.
Hadassah dedicates the Charlotte R. Bloomberg Mother and Child Center.
2005 Hadassah dedicates the Judy and Sidney Swartz Center for Emergency Medicine.
The Hadassah Medical Center is nominated for the Nobel Peace Prize.
2007, Hadassah breaks ground for the new Sarah Wetsman Davidson Inpatient Tower of Healing and initiates the Tower Capital Campaign.
2012, Hadassah celebrates it's centennial. The Sarah Westman Davidson Hospital Tower opens it's doors and receives the first patients