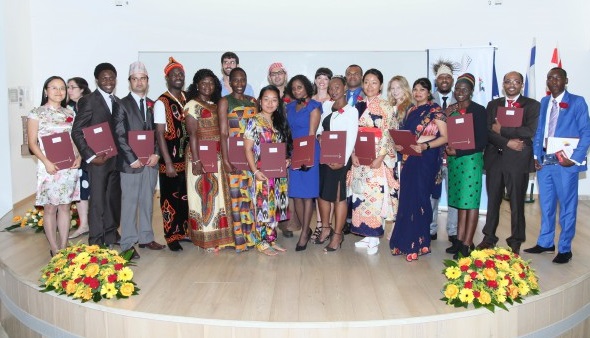 Singing "It's a Wonderful Country" in Hebrew, wearing their native dress, the members of the 41st International Master of Public Health (IMPH) program of the Hadassah-Hebrew University Braun School of Public Health and Community Medicine celebrated their graduation.
With this newest class of graduates, 845 alumni from 96 countries have been educated to spearhead public health advances in their homelands. Ambassador Gil Haskel, head of Mashav, Israel's Agency for International Development Cooperation, praised Hadassah and the Hebrew University for their outstanding work and long-term commitment to creating leaders who make a real impact in the world.
Ambassadors from Cameroon, Japan, Zambia, and Nepal were among the dignitaries. Ambassador Martin Mwanambale from Zambia represented the Diplomatic Corps and expressed his hope that Third World health crises would be addressed by the graduates. "I want to take this opportunity," he said, "to thank Israel for responding to natural disasters and for sharing its knowledge in dealing with epidemics and health challenges."
Prof. Yehuda Neumark, Director of the IMPH program, noted: "During their course of studies here in Jerusalem, the IMPH students have come to appreciate that our School has two institutional parents –Hebrew University and Hadassah. We are grateful to both institutions for continuing to provide scholarship support and an environment that is academically stimulating and physically comfortable."
Keynoter Narmada Acharya, a past IMPH graduate and today Strategic Intervention Advisor for UN-AIDS, Zambia, resumed her job in Care Nepal following her graduation and led the building of maternity rooms in seven health facilities. This resulted in a dramatic reduction in neonatal deaths and post-partum infections. She moved to UNICEF in Nepal as Program Officer for Health, Nutrition, and Communication in 1999, developing policies and strategies to reach out to women and children living in remote areas, later becoming Regional Program Officer at the UNICEF Regional Office for South Asia. Acharya spoke about her experience with women who had contracted AIDS from their husbands and then were ostracized for having the disease. She urged the graduates to show courage and follow their values and credited her success to what she learned during her year in Israel.
The 2015-16 students came from Nepal, United States, Japan, Suriname, Papua New Guinea, Sierra Leone, Cameroon, Uzbekistan, Nigeria, Saint Vincent and the Grenadines, Kenya, Fiji, India, Zambia, Norway, Ethiopia, Burundi, Kurdistan in Turkey, and China. This is the first year students took part from Burundi, Norway, St. Vincent and The Grenadines, and Suriname.
Speaking for the graduates, Dr. Josaia Tiko of Fiji said: "I take this moment also to acknowledge our teachers, administrators, and the staff of the Braun School of Public Health for their tireless commitment in teaching us throughout the year. You are the best and have groomed us well. You are our family; you shared your homes, you shared your meals, and you shared your knowledge and talent. I wonder if we can ever find this in any other University. To my 21 fellow graduates–physicians, researchers, statisticians, an epidemiologist, a nutritionist, and the list goes on– we will part after today, but we have formed a lasting bond that will last longer than we can ever imagine.
"Lest we forget, I conclude with this famous quote from the Late Nelson Mandella: "I have walked that long road to freedom. I have tried not to falter; I have made missteps along the way. But I have discovered the secret– that after climbing a great hill, one only finds that there are many more hills to climb. I have taken a moment here to rest, to steal a view of the glorious vista that surrounds me, to look back on the distance I have come. But I can only rest for a moment, for with freedom come responsibilities, and I dare not linger, for my long walk is not ended."