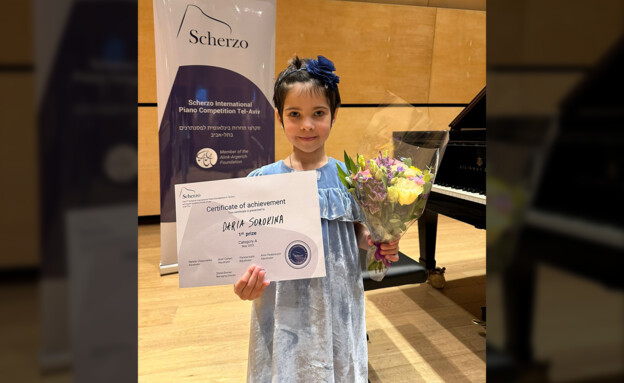 Daria Sarokina, a 6-year-old piano prodigy from Russia, was diagnosed with acute leukemia when she was less than two years old. After two years of chemotherapy and radiation, her cancer returned when she was four, with brain metastases. In a desperate attempt to save her life, Daria underwent a bone marrow transplant at Hadassah Medical Center in Jerusalem, Israel. Daria had been playing the piano since the age of two and was considered one of the world's most gifted young pianists. Her love for music and piano playing remained constant even during her illness. Her mother, Alexandra, requested a piano in her hospital room during the bone marrow transplant, and Daria continued to play throughout her treatment, finding solace and strength in her music.
During her time in Israel, Daria was offered a place at the Music Academy in Jerusalem, where she continued her piano studies. Her dedication and talent were exceptional, even impressing her music teacher at the academy, who described her as a phenomenal student.
Daria decided to hold a concert to pay tribute to the medical team who treated her after she recovered from the transplant. She played 12 pieces without sheet music, showcasing her remarkable skills. Her doctors believed that her passion for music played a crucial role in her recovery, helping her endure the challenging treatments.
Despite a setback following the transplant due to complications and a dangerous CMV virus infection, Daria's resilience prevailed. She received innovative treatment and made a remarkable recovery, returning to her normal life and her love for music.
Daria recently visited Hadassah Medical Center to express her gratitude to the medical staff before heading to a concert in Montenegro. Her journey is far from over, but she remains determined to embrace life and its opportunities, giving credit to Hadassah and Dr. Zaidman Irina, head of the Pediatric Bone Marrow Transplantation Unit and her team for more than just their medical expertise.
Based on original article from N12:
חייה של דריה בת ה-6, שנחשבת לאחת הפסנתרניות הטובות בעולם – ניצלו בישראל