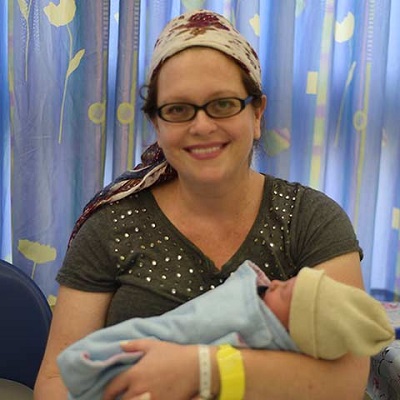 When Long Island-born book publicist Jessica Singer married Yehoshua Freud, a computational chemist last August, her husband didn't mention the family legacy surrounding the date of June 1.
Yehoshua's birthday is June 1. Yehoshua's mother's birthday is June 1. And Yehoshua's Vienna-born grandmother, Omama, was born on June 1.
Jessica and Yehoshua were delighted that Jessica became pregnant soon after the wedding. They decided to have the baby in the new Rady Mother and Child Center at Hadassah Hospital Mount Scopus. Not only was the birthing center modern and beautiful and close to their home in Maale Adumim, but Jessica had done her graduate work in Jewish education at the Hebrew University, and she understood the historical weight of the return of the Mount Scopus hospital campus to Hadassah following the 1967 war.
Jessica and Yehoshua were all set for a June 6 delivery, but because of some complications, her doctors thought Jessica should have a cesarean section. After looking at her chart and the calendar, they scheduled the birth for June 1.
"That happens to be Omama's 100th birthday," said Jessica. "And here I was on June 1 on Mount Scopus, where I fell in love with Israel—this time, with my beautiful baby boy, Betzalel Yonah."
Mazel Tov to all four generations of Freuds!