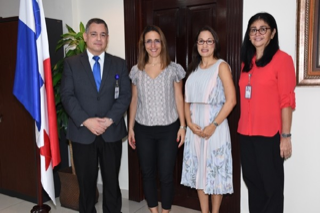 Dr. Malena Cohen, a pediatric pulmonary specialist at the Hadassah Medical Center, traveled to Panama last week to explore the idea of opening the first cystic fibrosis (CF) center there.
Invited by the Panamanian Government under the auspices of the Panamanian Social Security Department, Dr. Cohen met with people from the Health Ministry, as well as influential leaders in public health, who showed great interest in opening such a center. In addition, she spent two days training Panamanian health professionals, giving 11 different presentations that showcased Hadassah's work.
Dr. Cohen also took the opportunity to meet with 20 women from Hadassah Panama at the home of Raquel Betesh, Hadassah Panama coordinator and de facto president. During her presentation, Dr. Cohen talked about her specialty of pediatric pulmonology, as well as sharing highlights from the Hadassah Medical Center in general.
Plans are already being made for Dr. Cohen's next visit to Panama early next year to move forward with the project of creating the CF center.
Dr. Malena Cohen is also part of an implementation team to open a center for chronic diseases in the Argentinian province of Chaco. This project is being supported by the Miedvetzky family in Argentina. Dr. Cohen plans to travel to Argentina at the end of October.
Originally from Argentina, Dr. Cohen is considered by the Jewish Agency to be one of the most successful stories of Aliyah from Argentina. She has already established CF centers in Uruguay and Chile.
Photo above: Dr Malena Cohen – second from left – in Panama.