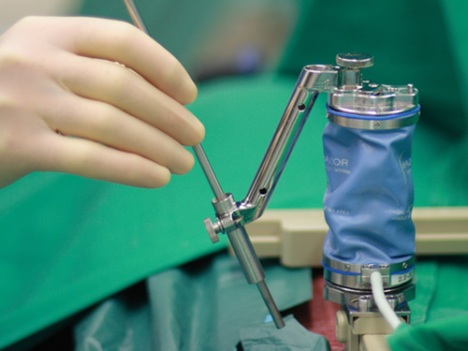 Hadassah Medical Center will be receiving the first SpineAssist miniature robot for performing spinal fusion surgery. This robot increases the precision of implant placement in spinal fusions, so critical to the surgery's success. Mazor Surgical Technologies of Caesaria, Israel, presented the robot at Hadassah Hospital-Mount Scopus for the first time in the beginning of May.
Hadassah successfully completed 20 surgeries under the supervision of Prof. Meir Liebergall, head of Orthopedics at Hadassah and Orthopedic Surgeons Dr. Leon Kaplan and Dr. Yair Barzilai. The miniature robot was developed by Mazor with the collaboration of leading spinal surgeons in Israel from Carmel, Sheba, and the Hadassah Medical Center. During the past year, the robot has been used in over 200 operations worldwide.
The SpineAssist does not replace the surgeon; nor does it perform the surgery. The robot executes a plan prepared by the surgeon on a computer prior to the operation. During the operation, the surgeon reviews and approves the robot's recommendations. The surgeon then inserts the surgical tools (drill or scalpel) through the robotic arm. The SpineAssist, while significantly increasing the accuracy of the implant placement, also decreases the chance of hitting vital organs. At Mazor, the miniature robot is thought of as a medical Global Positioning System (GPS). It brings the surgeon to the requested address.
"The use of Mazor's miniature robot in spine surgeries at Hadassah," notes Prof. Liebergall, "sets a new standard of safety, accuracy, and surgical quality in spine care. Hadassah is proud and will continue to be a world leader in image-guided surgery." Three years ago, Hadassah performed the first computer-assisted hip replacement.
Mazor's Chief Executive Officer Ori Hadomi expects that within a few years, the SpineAssist will become the standard of care in most spine surgeries. "The combination we've achieved of precision, ease of use, and credibility will be the deciding factor in the assimilation of the robot and in the success of the company," he said.