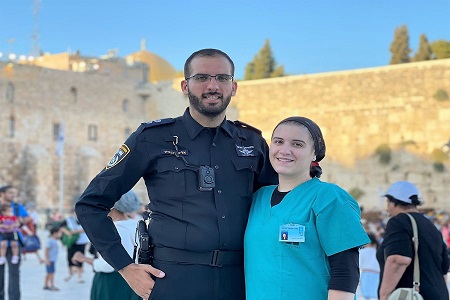 Leah was an X-ray technician in one of Hadassah Hospital Ein Kerem's COVID-19 units, where Elior's grandfather Yehuda had been hospitalized. Amid the challenges of the pandemic, Leah and Elior fell in love, married, and are now expecting a baby girl.
Elior is an officer in the Temple Mount Unit of the Jerusalem District Police. He explains that his family was not allowed to enter the COVID-19 unit to visit granddad, and they were worried about him. "Luckily," he says, "my father heard about a relative of someone he knew from France who was working as an X-ray technician at Hadassah Ein Kerem and was helping to X-ray the lungs of COVID-19 patients. We contacted her and asked her to take care of our grandfather and give him support. That technician, who has a huge heart, threw herself into the mission. We didn't know then that her willingness to help would end with her joining the family."
The couple married in December 2020, with granddad Yehuda standing under the chuppah offering his blessing.
Read Leah and Elior's full story in Israel Hayom.