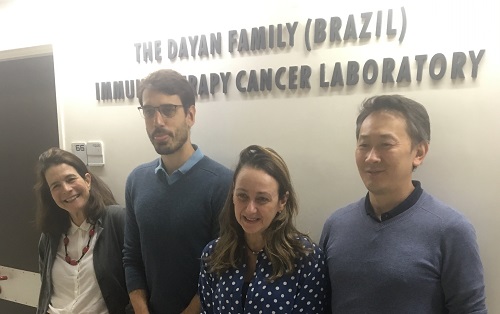 Part of the Hadassah International mission is to build bridges between nations and help to establish research and clinical ventures between the Hadassah Medical Center and medical institutions around the world.
A new bridge has been built between Hadassah and a leading hospital in Brazil. This relationship was made possible by a common donor, Mr. Roberto Bielawski, of the Jewish Community of Brazil, who has a personal interest in establishing a collaboration between the Hospital Israelita Albert Einstein in Brazil and Hadassah Medical Center.
The Dayan family from Brazil is part of the common denominator in this relationship. In Brazil, the Dayan Family built the whole Oncology Institute at the Albert Einstein Hospital. At Hadassah, they established the Immunotherapy Cancer Laboratory.  By working together, the two hospitals can serve as an innovative startup branch for the Dayan family's huge contribution to humanity.
The first event in a new exchange program between the Hospital Israelita Albert Einstein in Brazil and Hadassah Medical Center took place March 10-16 in Jerusalem. It was entitled the Hadassah – Albert Einstein Melanoma Immunotherapy Collaboration.
Prof. Michal Lotem, the head of the Hadassah Dayan Family (Brazil) Immunotherapy Cancer Laboratory hosted the six-day event.
Three highly qualified researchers from the Albert Einstein Hospital participated:
Gustavo Schvartsman, MD, a Medical Oncologist at Hospital Israelita Albert Einstein, who did a Fellowship in Medical Oncology at The University of Texas MD Anderson Cancer Center.
Luciana C Marti, PhD, with a degree in Biotechnology from the University of São Paulo and a Post-doctorate in Immunology from Duke University in the US.
Oswaldo Keith Okamoto, PhD, with a degree in Molecular Biology from the University of São Paulo, and a Post-doctorate in Molecular and Cellular Biology from Harvard University.
In the Photo above: Prof. Michal Lotem, Dr. Gustavo Schvartsman, Dr. Luciana Marti, and Dr. Oswald Keith Okamoto.
Prof. Michal Lotem:
In her opening remarks, Prof. Michal Lotem stated that there is a huge potential to create a bridge between Hadassah and the Albert Einstein Medical Center Melanoma and Immunotherapy Unit.
She explained that there are existing resources on both sides, and technologies and projects that can be shared. Hadassah is looking for medical collaborations all around the world and is very happy that this collaboration has started.
The goal is that after these initial meetings, each partner should collaborate and learn from the other.
Prof. Lotam welcomed the partners from the Albert Einstein Hospital, stating that they have amazing potential. Any medical institution would love to have them.
She told them that they can be pioneers by starting a new tradition of "investigational immunotherapy", and carrying the research and innovation to Albert Einstein, with its tremendous resources and possibilities. She reminded everyone that they should be aware how privileged they are to provide excellent medical services, and so they should regard it as mandatory to do science/research as well!
Dr. Gustavo Schvartsman, who lead the team from Brazil, responded that the Albert Einstein Hospital in Brazil is starting a project with cell therapy, and Hadassah is one of the leaders in the field. The team from Brazil is eager to learn best practices from Hadassah on how to manipulate and expand cells, and to understand what lies in the future for the field and Hadassah's plans for next steps. They are very eager to establish a collaboration.
Dr. Schvartsman added that this is his second visit to Israel, and he is very impressed by the Hadassah hospital and its very advanced research.
He also praised Prof. Lotem, stating that not only is she one of the best-known scientists in melanoma in the world, she is also a very kind, welcoming and receptive. It is rare to meet a scientist who is both a very nice person and a good host. She is one of the nicest people he has ever met.
He remarked that Hadassah is a place to engage in science, but excellence in patient care is regarded as critical. Prof. Lotem raises money all around the world because she believes that by raising more money, she can help the patients.
A lot of patients come from Brazil to Hadassah for treatment. But not everybody can afford it! Only basic immunotherapy is currently available in Brazil. It is very important to have the possibility of providing advanced treatment in Sao Paulo as well. The team from Brazil has come to learn so that they can start the project back home!
He added that he expects it to be a two-way street. "We hope to give back to Hadassah. If we succeed in improving our own work /protocol, we will share our findings and also develop many branches of the research. It is truly a beginning that can be something very special."
The Training:
During the 6-day training, the visitors from Brazil reviewed all aspects of cell therapy, past, present and future. Prof. Lotem explained how to position this research project and the market of new drugs available for melanoma. She also taught them how to grow and manipulate the cells.
At the end of the training Dr. Luciana Marti stated that "Hadassah is very good at taking care of people. They provided us with excellent training."
Dr. Oswaldo Keith Okamoto stated that "Hadassah does much more than research. They look to develop treatments for patients that do not respond to regular treatment! We can both do so much better if we work together to establish a collaboration and exchange our experiences."
Said Dr. Shvartsman, "At Hadassah we learned how to position this new project for the future of immunotherapies."