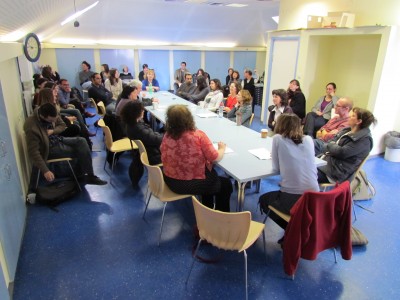 Jerusalem 2011
While Amit (a fictitious name) was impatiently waiting for the bus, he noticed some other teenagers busy using Facebook.
Amit did not have a 'Smartphone' but even if he had one, he would not have been interested in Facebook because his thoughts were on that tonight's soccer game – a crucial game for his team's chances to win the city's schools championship.
Amit looked at his watch again. "When will the damn bus come? I have to grab something to eat well before the football game!"
And then, suddenly, a loud explosion shook the entire region. Silence was followed by bedlam.
At the time of the explosion, Amit did not feel any pain. He just thought about Ron, his classmate who was waiting for the bus with him. While searching for Ron, Amit was exposed to horrifying scenes of the crying wounded, police sirens and ambulances, and felt helpless.  Amit was evacuated to hospital where he underwent surgery to remove shrapnel from his back. The operation was a success, but Amit realized he would have to undergo lengthy physiotherapy in order to restore his motor function.
Jerusalem 2012
Uri was waiting, but not for a bus. Uri is a clinical psychologist who works for the Jerusalem Crisis Intervention Centre (JCIC).
He treats Jerusalem's poorest residents that suffer from absorption difficulties, financial problems, family disputes, illness, addiction, or violence. Some need to deal with all of these issues. In addition to providing treatment to the children, therapists at the JCIC are required to work with parents, school staff, child welfare agencies, the police, as well as the courts. Children and adolescents referred to the Clinic for treatment have experienced serious family and social problems and have also undergone a traumatic event. While waiting for the meeting with Amit, Uri, the psychologist, read Amit's file. In recent years Uri has handled predominantly victims of other types of trauma (accidents, violence and sexual assault).  Amit's story reminds him of when he first started working at the Clinic, at a time when most of the patients were victims of terrorism. Uri discovered that Amit came from a poor neighborhood and had divorced parents. It is evident that up to this point in time everyone had been concerned with Amit's physical injuries and it took a long time before he was referred to therapy.
In one of the questionnaires that Uri read in the file, Amit's mother wrote that before the attack Amit's dream was to join a combat unit in the IDF. In the questionnaire Amit wrote that he knew because of his disability, he had no chance to enlist. And so, Uri thought to himself, one of the treatment issues will be to deal with his disability: Amit lost not only his position on the football team but also his motivation and self-confidence. He will also have to work on the conflict between Amit's parents. Uri treated Amit and his parents for a year. The therapy significantly improvement Amit's emotional state and increased his motivation to continue rehabilitation.  Uri also accompanied Amit during the test for his military service. It is most likely that Amit will be able to receive a post in the IDF. Behind the scenes, Uri and Amit had unseen Partners:  A group of people in Australia that feel they are part of the whole and reflect their involvement with Israel by supporting the JCIC.
Please click on http://www.hadassahaustralia.org/JCIC-Center.html to read more about the JCIC and Hadassah Australia's role in supporting their work.