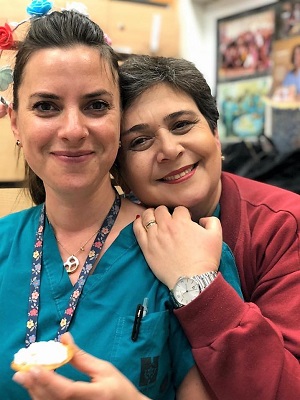 In honor of International Day of the Midwife 2020, Hadassah pays tribute to the midwives of the Hadassah Medical Organization. We highlight two who exemplify the midwives' love for their profession and "their" new moms.
Yael Cohen was a scientist at Israel's Weizmann's Institute. After giving birth to eight children, Yael decided to change careers. Becoming a midwife has been her dream come true. She loves delivering babies at Hadassah Hospital Ein Kerem.
Talia Avidor Dadash became a midwife at Hadassah seven years ago. Here is her story, as she posted it on Hadassah Hospital's Facebook page:
"Seven and a half years ago, I fell in love with my midwife, Yanna Glazer. She took care of me and worried about me like a guardian angel. I drew strength from her and, with her look, she made me believe in myself and my ability to give birth.
I emerged from my first birth experience thrilled. Not only did I become a mother but I also discovered the most beautiful profession in the world, which I didn't know about previously. The combination of professionalism, art, and love of mankind brought me to the decision to become a midwife seven years later.
It actually happened! I now work in labor and delivery at Hadassah Ein Kerem, alongside Yana and 80 other midwives whom I admire. I still find it hard to believe that I am part of such a fine team of powerful, professional, and kind women, especially during this difficult period of time.
In honor of International Midwife Day, I would like to wish the staff of labor and delivery at Hadassah that we may continue to 'have fun' and do good work for Hadassah's parents and babies."
Main picture caption: (l to r) midwives Talia Avidor Dadash and Yanna Glazer