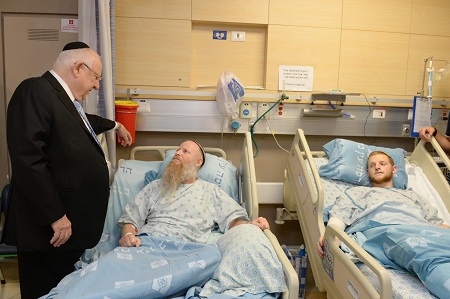 The family from Lod were enjoying a Friday hike in a popular nature preserve close to the Danny Spring near Dolev, east of Modiin when an explosive device suddenly detonated near them.
Rina Shnerb, 17, was killed instantly. Her brother, Dvir Haim, 19, and their father, Rabbi Eitan Shnerb, 46, were both injured, with Dvir Haim sustaining very severe abdominal and other injuries. The ambulance services reaching the victims realized the Shnerbs needed immediate expert care, so they called in a military helicopter that quickly flew both of the injured to Hadassah Hospital Ein Kerem.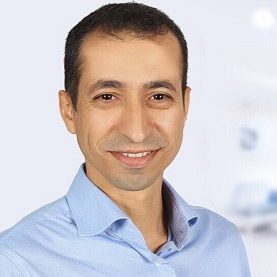 Once they landed, the unconscious Dvir Haim was immediately taken into surgery, where Hadassah's expert abdominal surgeon, Dr. Abed Khalaileh, was waiting for him. Several hours later Dr. Khalaileh was able to report that the surgery was successful.
Rabbi Shnerb also underwent surgery for his wounds, and father and son were moved to the Surgery Intensive Care Unit (ICU).
Two days later both patients had been moved out of intensive care into the regular surgery wards at Hadassah. They were visited there by Israel's President Reuven Rivlin, who said, "I come here on behalf of the people of Israel to comfort you in your time of mourning." Rivlin praised the work of Hadassah as a great center for healing.
Once again, we can be proud that Hadassah's outstanding facilities and the exceptional expertise of our staff, who come from all religions and ethnic backgrounds, were able to save the victims of a terrorist attack when their lives were in danger.
As the EMT ambulance staff knew when they called in the helicopters, Hadassah has the power to heal our world, to save lives, to give hope to those who turn to us when their lives are dependent on receiving the best in medical care available today.
In the main picture: Israel's President Reuven Rivlin comforts Rabbi Eitan Shnerb and his son Dvir.
Read some of the articles about this incident in the international media:
https://www.israelhayom.com/2019/08/23/report-2-israeli-teens-wounded-in-explosion-in-dolev/
https://www.timesofisrael.com/condition-of-rabbi-son-injured-in-west-bank-bomb-attack-improves/
https://www.jta.org/quick-reads/3-israelis-badly-wounded-in-west-bank-terrorist-attack
https://www.nytimes.com/2019/08/23/world/middleeast/israeli-teen-killed-west-bank.html
https://www.bbc.com/news/av/world-middle-east-49447039/west-bank-bomb-blast-kills-17-year-old-israeli-girl
https://www.msn.com/en-us/news/world/homemade-bomb-kills-israeli-teen-wounds-two-others-in-west-bank/ar-AAGdTAQ
https://canada.shafaqna.com/EN/AL/1318302
https://www.i24news.tv/en/news/international/middle-east/1566547342-three-israelis-injured-in-suspected-west-bank-terror-blast-by-dolev-settlement
https://www.enmnews.com/2019/08/23/bomb-kills-israeli-girl-17-at-a-west-bank-oasis/
http://bkknews.org/bomb-kills-israeli-girl-17-at-a-west-bank-oasis/
https://www.archyde.com/health/bomb-kills-israeli-girl-17-at-an-oasis-in-the-west-bank-2/