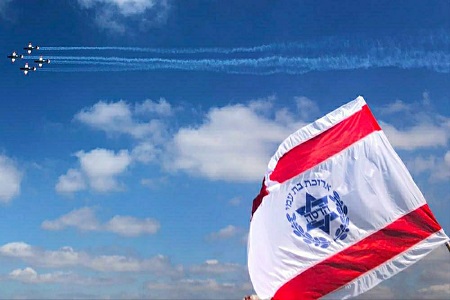 As the country battles against COVID-19, The Israeli Air Force flyover salute of the Hadassah Ein Kerem Hospital on Yom Ha'atzmaut, Israel Independence Day, was welcomed by the medical staff, several of whom gathered on the hospital's helicopter pad to greet the planes with flags. The crew from the aircraft flight deck sent a special message to the Hospital workers. Prof. Zeev Rotstein, Director General of the Hadassah Medical Organization, responded on their behalf, speaking to the flight deck directly by phone. The brief ceremony ended with the singing of Hatikvah, the Israeli National Anthem.
Please view the video below.
This is the translation of the conversations between the fight crew and Prof. Rotstein.
Yom Ha'atzmaut message from the pilot on the flight deck of the flyover:
We are the Air Force Flight Crew. We are marching in the Campaign for health and want to salute the healing teams at the Hadassah Hospital at Ein Kerem who are working day and night for the health of our citizens. We wish you, and all the citizens of the State of Israel, robust health and a Happy Independence Day.
Prof. Zeev Rotstein's response to the pilot:
Hag sameach! The Hadassah team that indeed serves at the front of the battle against coronavirus thanks you for your much appreciate gesture of flying above Hadassah Hospital. It injects us with energy to continue our endeavors! This is a festive opportunity to say thanks to the entire team of doctors, nurses, pharmacists, technicians, laboratory workers administrators and custodians…all who contribute to the battle.
Thank you to the Air Force and best of luck in safeguarding the skies of Israel. Happy Independence Day