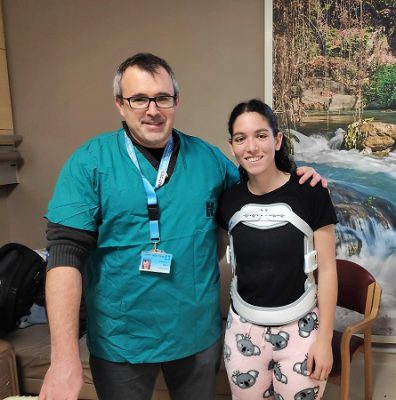 Liri Romi, age 18, was working as a volunteer guide for a year between high school and service in the Israel Defense Forces. Climbing hillside trails and walking through river beds with school groups, Liri was in great shape.
When her fellow volunteers invited her to join them on a low-cost ski trip to Bulgaria, she decided to go along. She'd never gone skiing before, and it sounded like fun. On her second day out, not unexpectedly, she slipped. To her surprise and horror, however, she couldn't get up.
As soon as she could, she called her mother. "Don't be mad. I have a broken back," she said tearfully into the phone.
"Of course, I wasn't mad. I was terrified," Mrs. Romi recalls. "In minutes, I was on the phone to the insurance company and already looking for flights to Bulgaria to be with my daughter."
The insurance representative said the company would make things easier by sending an emergency plane to pick up Liri, and Mrs. Romi could hitch a ride on it. Although the family lived in the northern part of Israel, the representative recommended that Liri be brought to Hadassah Hospital Ein Kerem, where the treatment for back injuries was best. "I called around to my own contacts, and the trail also led to Hadassah," Mrs. Romi relates.
When they arrived at Hadassah, to Mrs. Romi's amazement, Liri's x-rays from Bulgaria were already there. Looking at the lumbar vertebrae fracture with the help of additional imaging at Hadassah, the orthopedic team decided not to do surgery. "We do often operate on lumbar fractures," explains spine surgeon Dr. Josh Schroeder, "but sometimes a patient can do as well with a temporary brace, rest, and physical therapy without surgery."
"We're so relieved," comments Mrs. Romi, sitting by Liri's bedside in Hadassah's Sarah Wetsman Davidson Hospital Tower. "I know that surgeons are often keen to operate and are reluctant to let a break heal on its own. We are so grateful for the compassionate and professional care we're getting at Hadassah Hospital."
Picture caption: Dr. Josh Schroeder and Liri Romi