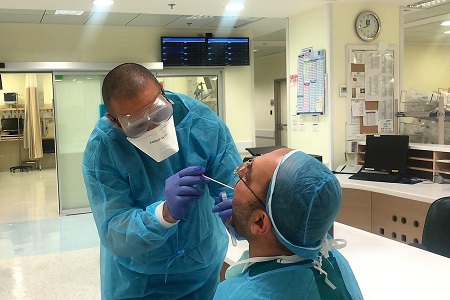 Beginning with the teams working in the Intensive Care Units (ICUs), the entire staff of Hadassah Hospital Ein Kerem and Hadassah Mount Scopus are being tested for the coronavirus.
With the Israeli Health Ministry forecasting an increase in coronavirus patients, the hospital has begun training ICU staff, including anesthesiologists and respiratory physicians, as well as providing refresher courses for doctors and nurses.
Testing is being conducted twice over five days. All those testing negative will wear a large green "corona-free" badge on their lapels.
Trauma Department staff will be the next group to be tested, followed by those in other departments. Once all staff working within the hospital are deemed to be coronavirus-free, they will be duty-bound to follow the agreed-upon protocols outside of the hospital as well.
Hadassah's corona patients remain in an isolated part of the older Round Building at Ein Kerem.
"Hadassah's pilot should be replicated in all hospitals in the country," says Hadassah Medical Organization Director-General Zeev Rotstein. "This program should also be implemented among all essential workers, as part of an exit strategy from the corona crisis and toward the recovery of the economy."
UPDATE: As of March 25, 2020 the Hadassah Medical Organization has tested 596 staff members at its two campuses, and 15 have tested positive for the coronavirus, including a security officer.
All 15 are now home in isolation and undergoing an epidemiological investigation to determine who has come in contact with them. "The results need to be a red light for every hospital and large organization in Israel, alerting them to the fact that they can avoid mass contagion of their workers by determining who is sick and isolating them," emphasizes Hadassah Director General Prof. Zeev Rotstein."
Hadassah is also planning to help test employees of essential industries, so they can work in corona-free plants. "If this model works," Prof. Rotstein says, "we will recommend to decision- makers that they broaden testing to the whole essential work force."