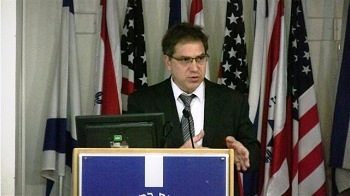 Commenting on the Phase IIa trial of NurOwn™–BrainStorm Cell Therapeutics' stem cell therapy for amyotrophic lateral sclerosis (ALS)–which is being conducted at the Hadassah Medical Center, Prof. Dimitrios Karussis, principal investigator, reports that the safety data are "impressively positive" and that the "initial indications of clinical efficacy" are cause for optimism regarding the management of ALS and the future of cell therapies for neurodegenerative diseases in general.
Prof. Karussis, Neurologist and Director of the Multiple Sclerosis Center at Hadassah, presented some of his preliminary findings from this ongoing dose-escalating trial at the 24th International Symposium on ALS/MND in Milan, Italy. MND, Motor Neuron Disease, is the name given to a group of diseases in which the nerve cells (neurons) that control muscles undergo degeneration and die.
According to Prof. Karussis, although the final data are not yet available for publication because the trial is still ongoing, researchers have met with only minimal and transient adverse effects, even though the patients in the study were given the treatment both intrathecally (into the cerebrospinal fluid by injection into the subarachnoid space of the spinal cord) and intramuscularly with up to double the dose of the stem cells given in the Phase I trial.
At the conclusion of the clinical trial, BrainStorm will release the complete set of data and corresponding analyses.