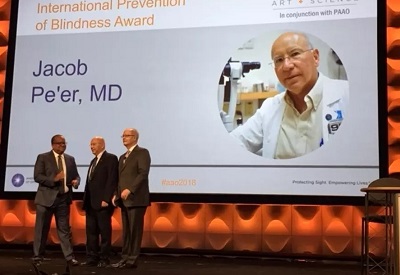 Esteemed Hadassah ophthalmologist Jacob Pe'er, past Director of the Hadassah Medical Center's Department of Ophthalmology, was recently presented with the International Blindness Prevention Award by the American Academy of Ophthalmology at its 122nd annual meeting in Chicago. Prof. Pe'er received the award in recognition of his significant contributions to restoring eyesight throughout the world.
"I receive this award with great pride, also in the name of the wonderful Department of Ophthalmology at Hadassah, whose clinical and research work has placed it at the forefront of ophthalmology. We have been working in this field in developing countries since 1959," said Prof. Pe'er, "establishing ophthalmology departments in Africa and training ophthalmologists from Africa, Asia, Latin America, and Eastern Europe. During the past five decades, our ophthalmologists have committed themselves to serving two years in Africa as part of Hadassah's mission to improve eye care in these countries.
"This award is a tremendous honor and certainly one of the highlights of my career," Prof. Pe'er added.
Prof. Pe'er's clinical and research interests center on the fields of ocular oncology and ophthalmic pathology. Since 1980, he has been involved in the education of ophthalmologists from developing countries and has created awareness of the challenges that ophthalmologists face in those countries through his commitment to building capacity and strengthening eye-care services in the developing world. In fact, Prof. Pe'er himself established an ophthalmology department at a hospital in Kenya in the 1980s.
The Director of the Department of Ophthalmology for more than 20 years, Prof. Pe'er now works as a senior physician in the Department. In addition to training generations of physicians and to providing advanced and, at times, breakthrough treatment in Israel in the field of ophthalmology, the Department has offered a certificate studies program to doctors from developing countries since 1961. Doctors from 38 countries have been trained as part of Hadassah's unique program, which in the past two decades has been under the leadership of Prof. Pe'er. The activity was part of the ongoing work of the Department and of Prof. Pe'er in the International Ophthalmology Association, where Prof. Pe'er served as head of the Committee for Countries with a Minimal Presence of Ophthalmologists. The goal was to raise awareness of the need to build advanced medical eye services in those countries.
The American Academy of Ophthalmology is the world's largest association of eye physicians and surgeons and represents a global community of 32,000 medical doctors who work to protect eyesight and empower lives by setting the standards for ophthalmic education and advocacy.