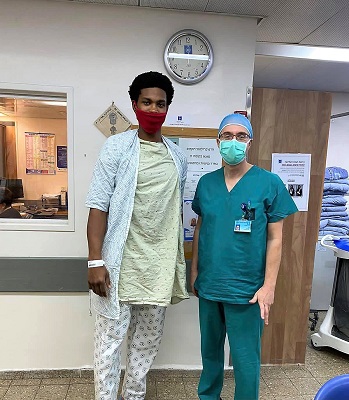 Malcolm Hill, an American basketball star who now plays for Hapoel Jerusalem, underwent successful hand surgery at Hadassah Hospital Mount Scopus on November 12, after having been injured in a playoff game earlier. Hand surgeon Dr. Shai Luria reports that all went as hoped for.
Hadassah physicians serve as Hapoel's medical backup. Fans always see them at the games attending to injured players.
Hill, age 25, was a four-year starter for the Illinois basketball team Illini. As reported in 247Sports.com, Hill is the number three all-time leading scorer in Illini basketball history. He has also played in three other countries during the last three years: the Philippines, Germany, and Kazakhstan.
"Not too many people can say they've been to Kazakhstan," Hill said. "No one even knows where that's at. . . . It's going to be a memory I'm going to have with me forever just like every place I've been to, because I'm all about building relationships and meeting people. I love that."