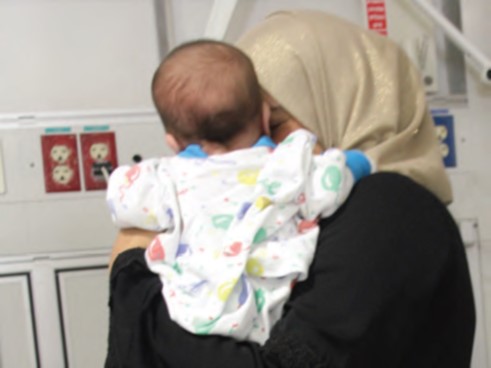 A 32-year-old Syrian woman was facing the challenges of war, when her fourth child was born. He didn't cry and he was blue. The midwife said he was okay, but she was wrong. When he nursed he turned more blue.
As it turned out, the baby was born with Tetralogy of Fallot. He had a hole between the chambers of his heart and a narrowing of his arteries.
The young mom took the monetary gifts the family received on Ramadan and went to see a doctor. He said her son would grow out of it, but she knew her baby wouldn't.
Word of mouth was that the Israel Good Neighbor program of the Israel Defense Forces was offering to bring Syrian children with congenital heart defects to Israel for life-saving surgery at  Hadassah Hospital Ein Kerem. The initiative is a unique collaboration between the Hadassah Medical Center and the Baruch Padeh Medical Center in Poriya-Tiberias, whereby a pediatric cardiologist from Hadassah joins physicians at Baruch Padeh in Tiberias to evaluate the children to determine whether they would benefit from heart surgery at Hadassah.
She consulted her husband, a construction worker, as to what she should do. "Inshallah (If Allah wills). You decide," he said.
Her neighbors discouraged her. Israel, they said, wasn't a safe place for Syrians like her. In the back of her mind, she had a long-time desire to see Lake Kinneret. So the young mother, holding her son, boarded the Israel Defense Forces' bus with 19 other Syrian moms and their children. They were headed to the clinic in Padeh Poriya Hospital in Tiberias, expecting to return home later that day.
When Hadassah pediatric cardiologist Dr. Julius Golender examined the baby, he told her that her son needed surgery urgently. Dr. Golender put mother and son in an ambulance that took them to Jerusalem.
The mom wanted to contact her husband to tell him what was happening, but she learned that her village was under attack. Her husband, her other children, and her husband's new second wife (up to four wives are allowed in Syria) had run for cover.
A Hadassah Hospital Arabic-speaking social worker gave the mom personal items, provided by a local Hadassah chapter. While pediatric cardiothoracic surgeon Dr. Eldad Erez operated for five hours on the baby, his mom sat in the underground waiting room, wishing her husband could be with her.
When she was reunited with her baby in the Pediatric Intensive Care Unit, tears of joy rolled down her cheeks. The blue had been replaced by a healthy glow.
Mom and baby stayed at Hadassah for two weeks. They were there to welcome another Syrian mom  with a sick baby and reassure her that Hadassah is a wonderful place.
The IDF arranged transportation for the mother and child back to Syria. She arrived safely at the border and began the search for her family.
Mom and baby will return to Tiberius later for a post-op check-up.
Read more about the Israel Good Neighbor program that is saving Syrian children.
The link: http://hadassahinternational.org/hadassah-cardiac-specialists-collaborating-colleagues-save-syrian-children/
Read about another Syrian baby whose heart was repaired and see the Syrian moms and their babies cross the border into Israel.
The link: http://hadassahinternational.org/the-mothers-came-secretly-from-syria-to-hadassah-to-save-the-lives-of-their-children/