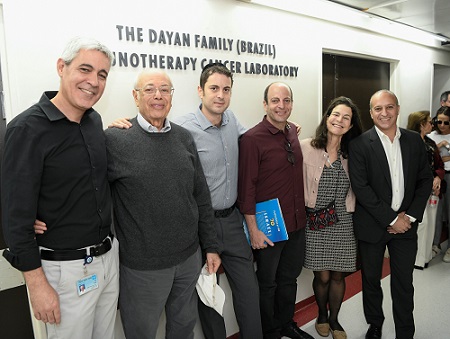 In an extremely moving dedication, the Dayan family from Brazil dedicated Hadassah's new Immunotherapy Cancer Laboratory.
Photo : Dr. Oren Levy, Sasson Dayan, Roni Dayan, Morris Dayan, Prof Michal Lotem, and Jorge Diener at the dedication ceremony.
The family, who a few years ago became cornerstone donors for the Sarah Westman Davidson Tower, has built a long- term partnership with Hadassah and adopted this project following the visit of Prof. Michal Lotem, Head of the Center for Melanoma and Cancer Immunotherapy, to Brazil in early 2017.
Since then, the relationship has strengthened in both directions as Prof. Lotem has been involved in discussing several issues and ideas in Brazil with the family, among them the beginning of a cooperation with the Albert Einstein Hospital in Sao Paulo in the field of cancer immunotherapy.
The emotional event included a tour of the current facilities with Prof. Lotem, where the 20 members of the Dayan family (including children) learned about the plans for the renovation of the laboratory that will begin soon thanks to their generous contribution. Walking through the laboratory, they were able to see the area where treatments for patients are prepared as well as the research area, and to understand first hand Hadassah's model of "from bed to bench."
Dr. Oren Levy, Deputy Director of the Hadassah Medical Organization (HMO), spoke on behalf of the Hadassah Medical Center's management and thanked the Dayan family for their ongoing support.
Prof. Lotem presented her team of outstanding researchers who are currently involved in transitioning the model of immunotherapies from melanoma into other types of cancer, such as lung, pancreas and breast cancer.
With tears in their eyes, the members of the family listened to the personal story of how Prof. Michal Lotem saved the life of Israeli Melanoma Cancer survivor Vered Yuhel. Three years ago, aged 29, Vered was working in the US as an Israel emissary, when she was diagnosed with stage 3 melanoma.  She was shocked and lost in the complexities of the treatments and expectations described by doctors in the US. Vered immediately returned to Israel, and although she lives in Haifa, she found hope and her cure at Hadassah in Jerusalem thanks to Prof. Lotem. Her words of gratitude and commitment to supporting Dr. Lotem's research for humanity were extremely moving.
Jorge Diener, Hadassah International Senior Director for International Projects, described Hadassah as a team of dreamers. "Together all of us, doctors, patients, volunteers, and donors, dream and realize our dreams in a country, in a city, in an Hadassah that has dreamed and turned the dreams into reality for more than 100 years," he told the family.
In closing, Morris and Sasson Dayan, representing both sides of the family, spoke emotionally of how important and meaningful this whole event leading to the unveiling of the name of the new Center has been for the whole family.