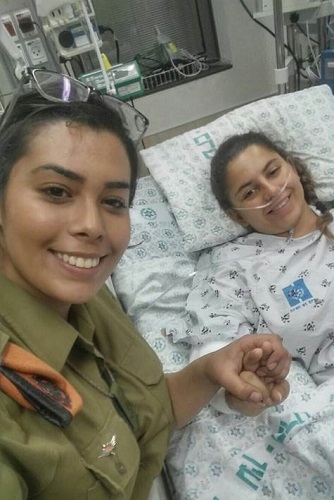 This week soldier Dikla Megidish who is in the Intensive Care Unit at Hadassah was visited by her friend and fellow soldier Corporal Lihi.
On Wednesday afternoon, October 21st, 2015  Dikla,  age 19, was attacked in Policeman Square at the Adam Junction north of Jerusalem. She was stabbed in the upper body and throat by Ibrahim Mu'taz Zawiya, age 21, from the Azariya suburb of Jerusalem.
Dikla was critically wounded. Zawiya then ran towards Corporal Lihi, who shot him. (A suspected accomplice was also apprehended).
Dikla was rushed to Hadassah Mount Scopus where her life was saved. Once stabilized, she was transferred to Hadassah Ein Kerem, where neurosurgeon Prof. Jose Cohen continued her treatment. Today, she is awake and breathing on her own.
Lihi, a combatant in the Home Front Command's Kedem Search and Rescue Battalion, explained "I was near Dikla when she was brutally stabbed. I was able to 'eliminate the threat', as we say in the army. I'm so happy to see her awake and smiling. Whatever she wants, I'm ready to do for her. I have full confidence that Dikla will heal quickly and return soon to our company."