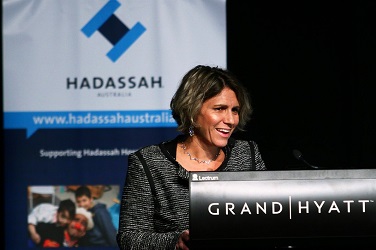 Hadassah Australia recently conducted a comprehensive week of events in conjunction with the visit to Australia of Dr Osnat Levtzion-Korach, the dynamic CEO of Hadassah's Mt Scopus campus. Together with her husband, Dr Amit Korach, Osnat was the featured guest and keynote speaker at a series of functions in Melbourne and Sydney.
At the start of the week an historic boardroom lunch (Hosted by Investec, Hadassah Australia's Major Annual Sponsor) saw Osnat sharing the podium with Izzat Abdulhadi, the official Head of the General Delegation of Palestine to Australia, New Zealand and the Pacific to promote Project Rozana to a select group of business and community leaders. Project Rozana brings together Hadassah Australia and Anglican Overseas aid (Australia) in raising funds for the treatment of chronically ill children, and the training of doctors, from the West Bank and Gaza at Hadassah Hospital, and Ambassador Abdulhadi spoke passionately about the Palestinian Authority's commitment to being a full partner in the Project.
An invitation-only fundraising evening at the beautiful home of Tony and Jennifer Smorgon provided an opportunity for Osnat to share the Hadassah story, with special emphasis on the projects funded and supported by Hadassah Australia.
Osnat was welcomed by the students and staff of Mt Scopus College, Australia's largest Jewish day school, where she again presented the work and contribution of Hadassah Hospital. She also met with a group of year 10 students who will shortly leave for a 2 month mission in Israel, where they will undertake volunteer work at the Hospital.
The Hadassah Australia 2013 Gala Dinner was the highlight of the visit. The Dinner has become a signature event on the Melbourne Jewish community calendar, and this year's dinner in the glittering ballroom of the Grand Hyatt brought together several hundred Hadassah friends, supporters and donors who (in addition to a wonderful meal and world-class entertainment) were treated to a powerful address by Osnat. Also speaking was Mr James Larsen, former Australian Ambassador in Israel and recently Senior Adviser to the Australian Foreign Minister. The presentation of Honorary Lifetime Membership to Dr Elane Zelcer, a tireless devotee of Hadassah Australia was a highlight of the event.
Another group of invited guests from the Jewish and broader community in Sydney was privileged to attend a special function at which Her Excellency Marie Bashir, the long-serving and much loved New South Wales State Governor was honored with the Hadassah Australia Tikkun Olam Award for her lifelong contribution to the cause of children's emotional and psychological wellbeing. Governor Bashir spoke movingly about her childhood in Sydney where she made friends with a number of the children of Holocaust survivors, and of her profound belief that what we all as human beings have in common is far more powerful a force than that which divides us.
The final event in this frenetic week-long program was a private harborside fund-raiser for a small group of Sydney doctors and health professionals at which Osnat again impressed with her energy and enthusiasm for the work and mission of Hadassah Hospital supported by Hadassah Australia.