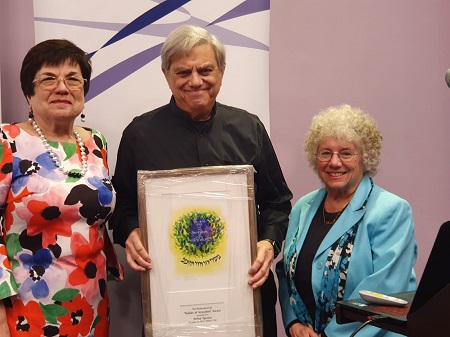 Boston-born architect Arthur Spector grew up attending Hadassah meetings with his mother, an active member of the Boston Chapter and the New England Region of Hadassah. Little did he know that the commitment to building Israel he was absorbing would have such a profound impact on his life. He moved to Israel and became one of the leading architects for important public buildings, among them the 19-story Sarah Wetsman Davidson Hospital Tower at Hadassah Hospital Ein Kerem and the neighboring Round Building now under renovation.
For his efforts on behalf of Hadassah, Spector, 80, was recently named Builder of Jerusalem by Hadassah Israel's largest chapter at their awards gala.
Fellow honorees were Prof. Moti Sela, the veteran maxiofacial surgeon who has successfully repaired the faces of wounded soldiers and injured civilians, and his wife, Ora Sela, a long-term activist in Hadassah Israel.
The Builders of Israel awards gala raised funds for the new rehabilitation center for soldiers and civilians at Hadassah Hospital Mount Scopus, another project being designed by architect Spector.
CAPTION: Pictured from left are Anne Rothenberg, president of Jerusalem's Nechama Tamar Chapter of Hadassah; Arthur Spector; and Awards Committee member Eleanor Slater. Photo credit: Courtesy, Hadassah-Israel