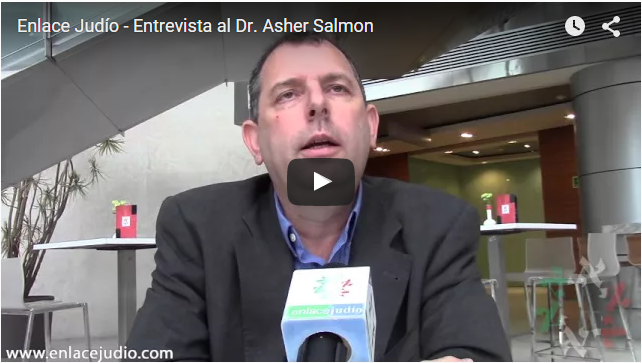 Published in Enlace Judío México on the 2nd of November 2015
Asher Salmon, Oncologist and Deputy Director of the Hadassah Ein Kerem Hospital in Jerusalem, visited Mexico on the occasion of the Guadalajara Business Summit 2015.
The Doctor is also one of the two discoverers of the gene for breast cancer. His discovery has led many women to undergo genetic tests related to this pathology. Angelina Jolie, a carrier of the breast cancer gene, decided to have a double mastectomy. This raised global awareness, but is there any alternative to this?
EJ (Enlace Judio): You have been one of the two discoverers of the gene for breast cancer. What does this discovery mean regarding the prevention and treatment of it?
AS (Asher Salmon): Breast cancer is a complicated topic. It has become one of the most common cancers in the world, not only in Europe and America. In any society in which life expectancy is increasing, the lifestyle changes. I think it is a very vast subject. You have to identify populations who are at a high risk and who therefore need some extra type of monitoring, mammograms, genetic tests. We are talking early detection here: this way, you can provide an early treatment against the disease. We have multidisciplinary teams working on it: oncologists, radiologists, surgeons, nurses, family support workers, social workers, psychologists. This is crucial for the treatment of breast cancer. It is no more a field with one single great specialist who "knows everything", but it requires a multidisciplinary team who can work together.
EJ: The case of Angelina Jolie has made news throughout the world. Are the measures she took be something a woman with a similar genetic background should consider?
AS: The first thing a woman should do is be genetically evaluated to understand what is happening. If your analysis reveals that you are positive in the sense of being a carrier of the BRCA1 or the BRCA2 gene,(as Angelina Jolie), international monitoring guidelines dictate the woman needs to be informed about the different treatments for prevention.
I believe that if Angelina Jolie is a good example of a woman who took responsibility and took all the preventive operations which are on hand; she is also a role model by facing the public: her reaction was correct in that sense.
Nevertheless does this mean that every woman carrying the breast cancer gene has got to resort to prophylactic surgery? There are other options such as monitoring with mammography, scans and check-ups with the surgeon. First you have to find the problem, and then you can discuss each case: each woman must decide after having understood what exactly her options are. Moreover, there are two types of prophylactic surgery for women who are carriers of these genes. One is to have a double mastectomy and have her ovaries removed at the age of forty or at an early age (when women have ended their pregnancy plans). It is a good piece of advice that we are offering here, not only because we have good tools to detect ovarian cancer, but generally it is better to react early rather than when the cancer is already too developed. Moreover, in doing this, we reduce the chance of developing breast cancer. Why? It has to do with the production of hormones. The important thing is that we reduce the prognosis of breast cancer by fifty percent, so we encourage women who carry the gene to have their ovaries extracted. Regarding the double mastectomy, the situation is more complicated, even though it is commonly understood that this is the best tool we have to prevent cancer. In doing this, the woman carrying the gene may not be able to lower her risk of developing cancer to zero, however, it will be very low. Another option is to go to a very precise supervision, getting a mammogram and an MRI once a year, visit a breast surgeon twice a year, taking some blood tests. All this is effective for diagnosis of breast cancer at an early stage.
Even when diagnosed early, it is still cancer. If you do not want to have to fight cancer even at an early stage, then you should consider having a double mastectomy and breast reconstruction, which I believe is a legitimate decision for a woman. It is important to note that it is the individual decision of the woman and not the doctor's.
EJ: What is your opinion about the lumpectomy?
AS: It was a legitimate surgery for over thirty years. A lumpectomy is the removal of the tumor with the surrounding tissue, leaving most of the tissue unharmed. Many times we have to add radiation therapy afterwards. Some women prefer to keep their natural breast, yet having to pay the price for it and receiving radiation later. Women who consider this type of surgery usually prefer it.
EJ: How about the research progress in the field of the Embryonic Stem Cell treatment for ALS and Multiple Sclerosis?
AS: It's an interesting field, where many experiments have already been executed. We at Hadassah are examining both ALS and multiple sclerosis. I must say that the chances of finding anything are bigger for Multiple Sclerosis than they are for ALS. There is an international group that is experimenting with this: there is no miracle cure or treatment to stop the spread of the disease and improve the patient's life, yet.
EJ: Is there a vaccine against Melanoma (skin cancer), as it has been rumored?
AS: We have a new field of Oncology: we can not only fight cancer, but we also teach the immune system how to attack and kill cancer cells. Immunotherapy and vaccines is not only very successful for the treatment of Melanoma. This type of treatment is most appropriate for Melanoma because it is a disease in which the immune system plays an important role, unlike other cancers. Since the seventies, scientists have sought for an immune therapy for Melanoma: Interferon and other agents were produced. Later, the scientific world sought to find an effective vaccine; it is still searching and there has been some success, but we do not have the keys to solve this problem (yet). As we have heard in recent months in the international press, the results of treatment with immune therapies related to the monoclonal antibody are really impressive. Today we sometimes combine two types of monoclonal antibodies to fight melanoma. I must say that unfortunately we are not able to fully heal somebody of it, but about fifty percent reacted positively. Only side effects are still a problem.
EJ: What is the role of the Hadassah Hospital in the wave of violence that crosses Israel?
AS: Hadassah is at level A. It is the only Trauma Center in Israel with specialists available 24/7, three hundred sixty-five days a year. We have a space for different traumas; the team is ready within minutes, already in the Trauma Center, and waiting to receive and help the wounded. Now that we have this terrorist violence in Jerusalem, we are even more alert, as we receive both victims as terrorists: we also have to deal with those.
EJ: Do you think Israel can do something for peace through the Hadassah Hospital?
AS: We've been doing a lot for many years. We have trained Palestinian medics: they had the opportunity to come to the hospital with a complete right to Israeli residency for five years, then they returned to Palestinian hospitals and used their knowledge gained at Hadassah and kept a good connection with Israel. We are also receiving Palestinian patients from both the West Bank and Gaza. We can say that Hadassah is a safe "Garden of Eden" where we are dedicating our time and even our lives for Health, whilst ignoring the political situation around us. It is not always easy but we are training our staff that every patient who comes through our doors should get the best possible care.
In my view the policy is very complicated: our effort is important, but not decisive for peace.
The Hadassah Hospital work in Mexico will bring infrastructure for the fight against diabetes and for performing genomic medicine.
EJ: Is this your first time in Mexico?
AS: I have been to Mexico previously. This is my third trip.
EJ: What is the purpose of your visit to our country?
AS: To establish professional connections with local groups trying to provide both services and collaboration in several areas including genetic medicine, diabetes, emergency medicine, hospital academic structure … and more medicine.
EJ: Have you had contact with the Jewish Community in Mexico?
AS: I have been in contact with the Mount Sinai Communities and Magen David. I spent a Shabbat in the synagogue of Mount Sinai. I have met many Jewish leaders of Mexico City and other cities. Hadassah thinking has much to do with Jewish solidarity; I appreciate relations with Jewish communities throughout the world, particularly in Mexico.
EJ: You were the only foreign doctor in the Mexico Business Summit 2015 in Guadalajara. What topics were discussed?
AS: I talked about medical advances in Israel as a tool to promote social prosperity in Latin America and especially in Mexico. I talked about two examples that are relevant for projects and collaboration. One was to create a modern genetic medicine service and the second was to create a national structure to combat diabetes from an early age on, including all aspects such as early aggressive treatment, patient records and monitoring, delayed treatment, etc.
EJ: What are the advantages that Hadassah will contribute to improving the quality of life of the Mexican society?
AS: It's about professionalism in academic medicine, to present the tools at hand, have combined teams who work together in the different branches of medicine, import new technologies currently being developed and sharing them with our Mexican colleagues. Computing, bioinformatics, electronic medical records and more will be discussed more closely for this project.
EJ: How in your opinion can Diabetes treatment and genomic medicine in Mexico be improved?
AS: Diabetes is a chronic disease that brings havoc to the world. Mexico has the highest percentage of patients worldwide, almost the double the amount of cases that are known elsewhere. Mexico is suffering from an inequality in health, depending on geographic location, available facilities, and the organization of systems. Mexico lacks diagnosis systems and tracking systems of health. Diabetes is a disease with great potential (for treatment), and when it is diagnosed, one should begin treatment immediately and not wait five or ten years, when it is too late.
There is a lot to be done, and we will be happy to be part of it. I am very impressed by this beautiful country, I believe it has great potential in medical research and treatment, both in education and in the desire to improve the prosperity of the population. They have talent, they have power, they have the resources. What you need to do is put it all together … and fight.
For the interview in english (with english and spanish subtitles), please click on this foto: