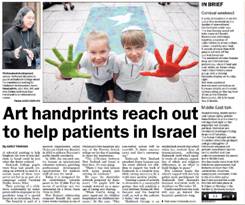 Thanks to a project created by Hadassah New Zealand, the children of Auckland's Kadima school brightened the lives of young patients at Hadassah Hospital by creating an "art masterpiece" for the Pediatric Department of Hadassah Hospital-Mount Scopus.
"The project enabled the children to support the work of Hadassah in a tangible way, while raising their awareness about a world-class medical facility," explains Hadassah New Zealand President, Jenny Leiman. "Sending a piece of artwork to Jerusalem is a meaningful gesture that will establish a bond between Hadassah New Zealand and the hospital itself, as well as the patients it heals," said Jenny. The event is part of the "Painting Smiles Across Miles" campaign, which the Unit developed to raise awareness about Hadassah in New Zealand.
Dr. Ronald Ma, who recently took part in a three-week clinical exchange at the Hadassah Medical Center, as a recipient of Hadassah New Zealand's Valda Knight Memorial Scholarship, also addressed the Kadimah children. The scholarship was created in memory of the Unit's founding president to enable health professionals in New Zealand to experience "comparative study at Hadassah, one of the world's leading research and teaching hospitals."
Kadimah, New Zealand's only Jewish day school, has students from all denominations, Mrs. Leiman relates, "reflecting Hadassah itself, which equally treats all patients, regardless of ethnic and religious differences, in an effort to build bridges to peace."
The funds from Hadassah New Zealand's 2010 Bi-annual World Wide Walk were earmarked for the renovation of the Pediatrics Department on Mount Scopus.