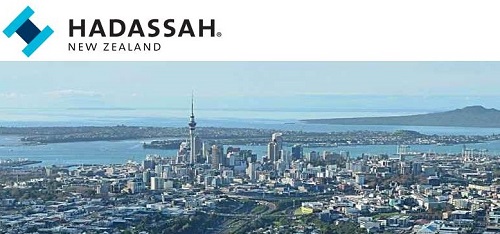 REMINDER HADASSAH INTERNATIONAL, NEW ZEALAND
ANNUAL GENERAL MEETING
Sunday 6th August, 2017 at 4.00pm
Raye Freedman Library, 588 Remuera Road, Meadowbank
Our guest speaker is Rosemary Currie who will talk and show slides from her recent trip as a volunteer at HaYovel, a humanitarian organisation in Sumaria, where she assisted in the grape harvest.
For more details see http://v2023.hadassahinternational.org/hadassah-new-zealand-agm-volunteer-talk-bringing-grape-harvest-israel/
HADASSAH INTERNATIONAL NEW ZEALAND
The Valda Knight Memorial Scholarship to Israel
Hadassah International in New Zealand invites people working in the health sector or students studying for health sector qualifications in New Zealand to apply for the 2017/2018 Valda Knight Memorial Scholarship, which enables them to set up their own programme of study (in a specified area of interest) at Hadassah Hospital in Jerusalem, Israel.
Background information and an application form are available on the Hadassah New Zealand website. Please go to 'What's New' at www.hadassah.co.nz
The scholarship carries an award of a return economy class fare to Israel plus a grant of $1500.00. Full terms and conditions of the award are on the website documents.
APPLICATIONS FOR THE 2017/2018 award close on
August 31 2017.
For more details see http://v2023.hadassahinternational.org/applicants-2017-valda-knight-memorial-scholarship-sought/