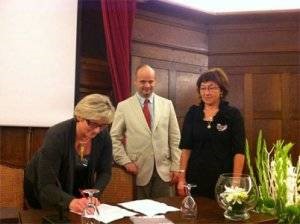 The Bordet Institute of the Free University of Brussels, Belgium and the Hadassah University Medical Center have signed an agreement of cooperation to advance cancer research.
The new alliance is a natural outgrowth of the professional relationship that Prof. Maurice Sosnowski, head of the Department of Anesthesiology at Bordet and President of the Coordination Committee of the Jewish Organizations of Belgium, has had with Hadassah over the last 30 years. In January, a delegation from Hadassah Belgium, composed of eight professors of medicine, traveled to Israel to launch this twinning initiative, which begins with a focus on breast cancer and hematology.
The agreement was signed on June 19th in the presence of Free University of Brussels Rector Didier Viviers and Health Minister Laurette Onkelinx. In addition to joint research programs, the cooperative venture will spearhead symposia that provide an opportunity for the medical staff of both hospitals to share information and expertise. Bordet is the only autonomous hospital in Belgium that is totally dedicated to cancer screening, treatment, and research.
"Today, we possess only one technique of genetic analysis, which is both costly and lengthy, in order to determine whether a cancer is hereditary," relates Dr. Daphné t'Kint, a clinical oncologist at Bordet. "Hadassah," she says, "has developed state-of-the-art technology that is simple and less costly, using a blood sample. If we can determine whether the patient's cancer is hereditary, this information could alter the care and treatment prescribed to the patient. This cooperation agreement will allow us to make significant progress."
Bordet Institute President Robert Tollet notes: "Whenever an opportunity to make scientific progress arises in areas as crucial as oncology, it would be a crime not to benefit from the potential know-how at our disposal through a partnership between Belgian and Israeli research centers."