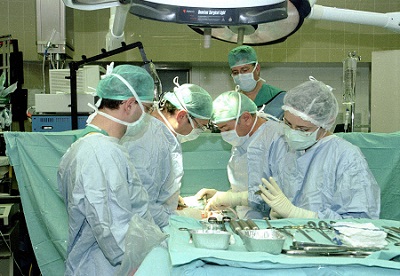 The death at Hadassah of an Israeli border guard injured in a terrorist attack earlier in the week* has led to saving the life of a man who needed an organ transplant. When the Border Police Officer's family donated his organs, Hadassah Medical Center surgeons transplanted Benjamin Jacobovitz's liver and kidney into a 54-year old patient with advanced liver disease.
Dr. Hadar Merhav, head of Hadassah's Transplantation Unit, together with Dr. Abe El Halaila and Dr. Ram Elazari, performed the complicated 10-hour surgery. "The recipient was suffering from fatal liver disease and had lost the use of his kidneys as a result," relates Dr. Merhav. "In the last month, his condition deteriorated.  I'm pleased that the complex surgery went well and that the organs have been accepted and are working smoothly. The transplanted organs saved his life."
*20-year-old Border Police officer Binyamin Yakobovich was critically wounded in a Palestinian car-ramming attack on November 4 at the Halhul junction near Hebron in the West Bank. Police officers shot and killed the attacker.
To read more, please go to http://www.timesofisrael.com/family-donates-organs-of-officer-20-killed-in-west-bank-attack/