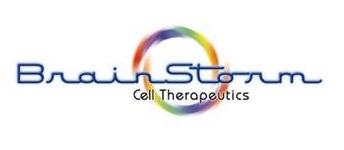 The ALS PhaseI/II safety trial of Brainstorm Cell Therapeutics' NurOwn stem cell therapy has been fast tracked to a Phase IIa dose-escalating trial by Israel's Ministry of Health and will be launched "immediately" at the Hadassah Medical Center, reports this leading developer of adult stem cell technologies for neurodegenerative diseases.
Prof. Dimitrios Karussis, Principal Investigator of BrainStorm's Phase I/II trial and head of the Multiple Sclerosis Center at Hadassah, commented: "Based on the positive results we have seen for the first 12 patients, we are eager to begin the next stage of clinical testing, and are delighted that the Ministry of Health has given us the green light to proceed to Phase IIa."
"Acceleration to Phase IIa will save us critical time, enabling us to proceed much more quickly with achieving our goal of developing an effective treatment for ALS," said Dr. Adrian Harel, BrainStorm's Chief Executive Officer.
In the Phase IIa trial, the second group of 12 patients from the initial cohort of 24 will receive combined intramuscular and intrathecal administration of NurOwn cells in three cohorts, with increasing doses. The study participants, who have already been recruited, will be followed for three to six months after transplantation.
BrainStorm plans to expand its clinical development to the United States in 2013, pending approval by the Food and Drug Administration.  The company has entered into a Memorandum of Understanding with the University of Massachusetts Medical School and Massachusetts General Hospital to begin ALS human clinical trials at these medical facilities.
BrainStorm's NurOwn is a first-of-its-kind adult stem cell therapy for the treatment of neurodegenerative diseases derived from autologous bone marrow cells.