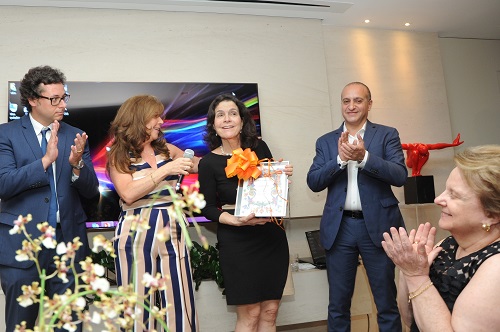 With the theme "There is Hope", Hadassah Brazil held a major event in Sao Paulo in February 2017 that featured Professor Michal Lotem, Head of the Center for Melanoma and Immunotherapy in Cancer at the Hadassah Medical Center.
After Fabio Wajngarten, the President of Hadassah Brazil, and  his wife Sophie met Professor Lotem during their latest visit to Hadassah in Jerusalem, they decided that the family should do something to support the incredible work that Prof. Lotem is doing with research that focuses on innovative immunotherapies to prevent the recurrence of melanoma and other types of cancer.
The result was an outstanding event hosted by Monelle Mosseri, and Sophie and Fabio Wajngarten  in memory of Daphne Mosseri, Monelle's daughter and Sophie's sister, who died from Metastatic Melanoma a few years ago at a young age.
At  the elegant home of Monelle Mosseri, Daphne's mother, Prof. Michal Lotem had the opportunity to speak to 140 distinguished guests  and explain the hope that she and Hadassah's researchers are bringing to cancer patients the world over.
The participants at the event included top business, political and philanthropic leaders from all over Brazil. For many of them it was the first time they had heard about the pioneering role played by Hadassah in creating excellence in medicine and healing. One of the attendees, Xuxa, who is one of the mega celebrities in Brazil and beyond, endorsed the importance of supporting Hadassah.
During her visit to Brazil, Prof. Lotem also had an opportunity to explore professional cooperation with medical centers in Brazil. She presented on her work at the Syrian-Lebanese Hospital to cancer specialists. She also made a presentation to 200 medical students at the Medical School of the Santa Marcelina Hospital,  organized by Dr. Sidnei Epelman, a Board member of Hadassah Brazil and an oncologist himself . Those meetings led to an initiative for further collaboration where  Melanoma and Immunotherapy specialists from Brazil will be invited to participate in a special program to learn about Prof. Lotem unique work at Hadassah.
Continuing Hadassah's tradition of building bridges of peace between cultures, a new bridge has been built between Hadassah and Brazil, one that will bring healing and cure to millions of people in Brazil, Israel and across the globe.
Photo Above: Prof. Michal Lotem is presented with a certificate of appreciation: L-R Fabio Wajngarten, President Hadassah Brazil; Ethel Fainstein, Hadassah International Director for Latin America, Prof. Michal Lotem, Head of the Center for Melanoma and Immunotherapy at Hadassah Medical Center; Jorge Diener, Hadassah International Senior Director of International Projects.