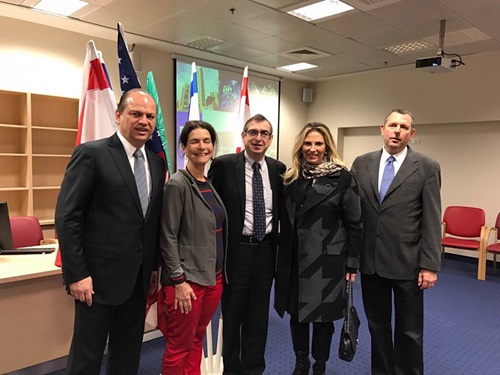 Mr. Ricardo Barros, the Brazilian Minister of Health brought a delegation to the Hadassah Medical Center to learn more about Hadassah and possible future collaborations. The delegation included Ms. Maria Aparecida Borghetti, the Vice Governor of the State of Parana and Mr. Fabio Rocha Frederico, the Special Advisor to the Brazilian Minister of Health for International Affairs.
They were welcomed by Meir Mark, the Director of Hadassah International Israel. Before a tour of the hospital, Prof. Ashi Shalmon, the Deputy Director of the Hadassah Hospital at Ein Kerem, spoke about the Hadassah Medical Center, and how it builds bridges to peace by serving everyone, regardless of their nationality or religion.
The Delegation then learned more about the remarkable work being done in the Department of Pediatrics from Professor Eitan Kerem, Head of Pediatrics at Hadassah.
Professor Jacob (Kobi) Pe'er, Head of the Ophthalmology Department at Hadassah, spoke to them about the new Pediatric Ophthalmology Department that has recently been open.
Professor Michal Lotem, who recently visited Brazil, discussed the Center for Melanoma and Immunotherapy in Cancer at the Hadassah Medical Center, which she heads.  While she was in Brazil, Prof. Lotem developed an initiative for further collaboration whereby Melanoma and Immunotherapy specialists from Brazil would be invited to participate in a special program to learn about Prof. Lotem's unique work at Hadassah.
The Brazilians expressed their appreciation of the opportunity to visit Hadassah.
Photo above: Left to right: Mr. Ricardo Barros, the Brazilian Minister of Health; Professor Michal Lotem, Head of the Hadassah Center for Melanoma and Immunotherapy; Meir Mark, the Director of Hadassah International Israel; Ms. Maria Aparecida Borghetti, the Vice Governor of the State of Parana; and Mr. Fabio Rocha Frederico, the Special Advisor to the Brazilian Minister of Health for International Affairs