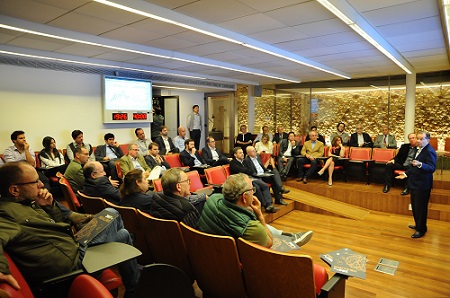 Hadassah Brazil was very grateful when Luis Stuhlberger gave an exclusive presentation of his economic world forecast at an event hosted by Jewish business leader Marcos Lederman at his corporate auditorium. The presentation attracted a selected group of influential business people in Sao Paulo in May 2018, to hear Stuhlberger's presentation and learn about Hadassah's Research in Service to Humanity, as well as Hadassah's new 360 Degrees of Healing Campaign for the Round Building.
Luis Stuhlberger is one of the most highly regarded business men in Brazil. He is considered the financial "guru" in the country and is the US$1M sponsor of one of twelve Chagall Windows at Hadassah Ein Kerem. He is a Brazilian Hedge Fund Star, with numerous contacts in the world of finance and business.
After a sumptuous cocktail party, Fabio Wajngarten, President of Hadassah Brazil, introduced the audience to Hadassah's Research in Service to Humanity. Participants then heard Luis Stuhlberger's presentation about future scenarios in the world and Hadassah's role in that important journey.
Ethel Fainstein, Hadassah International Director of Latin America presented Stuhlberger with a brochure about the latest Hadassah 360 Degrees of Healing Campaign, and Jorge Diener, Hadassah International Senior Director of International projects talked about how the audience could become involved with Hadassah.
Photo above: Luis Stuhlberger gives an exclusive presentation of his economic world forecast