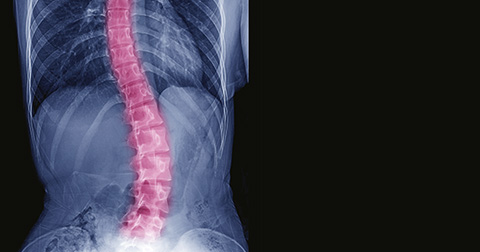 Spine specialists at Hadassah Hospital Ein Kerem used an innovative, minimally invasive approach to correct scoliosis in a 14-year-old with Down syndrome. "The doctors thought 'outside the box' and my son is now walking with a straight back," says his mother.
Scoliosis is a three-dimensional distortion of the spine. The deformities can be severe or mild, and so can the treatment. The traditional method is to have the patient wear a corset that puts pressure on the spine to correct it. Elia, the boy with Down syndrome who was being treated at Hadassah for severe scoliosis, was not able to tolerate the corset and would habitually take it off. His parents were not able to get him to understand that he had to keep the corset on.
Elia's scoliosis began in adolescence, and his condition deteriorated as time passed. It got so bad that Elia was walking with a 50-degree tilt to the side. He required major surgery.
"We had to think about an effective treatment for the boy, making sure that the pain level would be as low as possible," explains Hadassah spine specialist Dr. Josh Schroeder, Elia's physician, and surgeon. "It is very difficult to estimate the extent of Elia's pain because he does not communicate like other children."
After consulting with Prof. Leon Kaplan, head of Hadassah's Spine Surgery Unit, and experts from around the world, the Hadassah surgical team came up with an idea for a different, innovative treatment.
"Most of the surgeries for correction of scoliosis are performed by means of an incision along the back, an invasive procedure requiring a long recovery time," says Dr. Schroeder. "In Elia's case, we chose a less invasive approach, including partial use of the Israeli mini-robot invented by Mazor Robotics." The Mazor robot system maximizes precision placement and safety.
Dr. Schroeder explains, "We made a small incision in his back, through which we installed tiny screws in the spine to stabilize the vertebrae and, in this way, straighten the spine. We minimized the risk of bleeding, infection, and pain. Recovery time was reduced by almost half that required in regular surgery, and, of course, the result is more aesthetic."
Dr. Schroeder adds, "Our guy left the operating room within two and a half hours and after three days he was home."
Elia's parents note, "We were very worried about the operation. Elia is just a child! We want to express heartfelt thanks to the surgeon, the operating room staff, and the recovery room staff. They came up with an innovative solution, and, thanks to them, our son walks independently now, and his suffering is over."
Dr. Schroeder points out, "This is the first time the approach has been used in Israel. It is a breakthrough in the treatment of children with special needs, especially those who cannot communicate. Up until now, these children had to go through a fully invasive operation and were subjected to pain, medical complications, and a long recovery period. We have found a way to improve their quality of life and minimize the pain associated with such treatments."