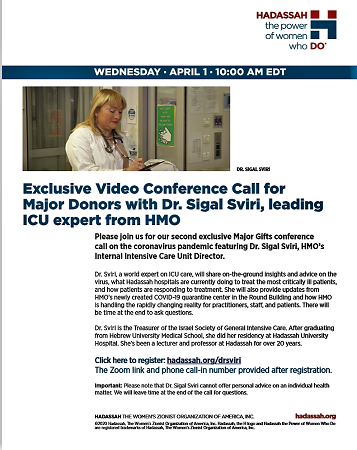 An Update Direct from Hadassah's Director of Intensive Care
Addressing over 125 Hadassah supporters, Prof. Sigal Sviri, the Hadassah Medical Organization's director of intensive care, told webinar participants on April 1, "I think it's important that we share our experiences at Hadassah with you. We are one big family."
Prof. Sviri, now heading up the coronavirus intensive care units (ICUs) in the old Round Building at Hadassah Hospital Ein Kerem, noted, "We are in shock, and we will probably have post-traumatic stress disorder afterward." But this has not stopped her from jumping into gear to care for current victims of COVID-19 and the onslaught of patients to come. Her goals are concrete, and her vision is clear. The main two challenges, she explained, are to isolate the coronavirus patients and to find the resources to treat them and save their lives. As she noted, "It is one thing to find a few beds for victims of a car accident. It is totally another to set up a whole parallel hospital to care for the coronavirus patients."
Yet, that is exactly what Hadassah, with Prof. Sviri at the helm, has done and continues to do. First, Hadassah created two areas—one for patients with milder cases of the coronavirus and the second for critically ill COVID-19 patients. Fortuitously, the old Round Building, now undergoing expansive renovation, proved to be the perfect setting for a new quarantine center for coronavirus patients. In just under one week, Prof. Sviri reported, Hadassah built the unit on the eighth floor of the building, where the walls were the only remaining infrastructure. Hadassah staff gathered whatever equipment they had around the hospital and set up six ICU beds, replete with mechanical ventilators, blood gas machines, monitors—whatever was needed for a fully functioning ICU. "We had to think through every detail," she related, "because once the unit was set up and patients were inside, no technicians would be able to enter."
That ICU is now full. Prof. Sviri explained that not everyone in it is elderly. In fact, one patient is a 34-year-old new father, who just hosted a 60-person bris (circumcision ceremony). One of his guests had COVID-19 and passed it on to him. Another patient is a 40-year-old health care worker, who was helping an elderly patient in a nursing facility. A social worker he came in contact with tested positive for the coronavirus.
Coronavirus patients at Hadassah are being treated with hydroxychloroquine (the long-available anti-malaria drug), along with antibiotics and anti-HIV drugs.
With the number of COVID-19 patients increasing each day, Prof. Sviri plans to open another unit—a 38-bed internal medicine ward for coronavirus patients—by the end of the week and another 20-bed area ten days later.
That will provide a total of nearly 100 beds for COVID-19 patients. Next, if necessary, she will take over the old operating rooms in the Round Building, since there are new ones in the Sarah Wetsman Davidson Hospital Tower.
Jerusalem has the potential for a catastrophe, Prof. Sviri explained, since it has many areas of dense population. In addition, she said, "we are seeing the results of people not internalizing the need to cancel weddings and other large celebrations."
Prof. Sviri reported that Hadassah is training all the young internal medicine and emergency room doctors, as well as surgeons and other specialists, to ventilate patients. "Everybody who can help is helping," she said. "No one is saying 'no' to me."
When asked about how Hadassah is handling the ethical issues surrounding the scarcity of resources, Prof. Sviri explained that Hadassah has formed a Coronavirus Ethics Committee that will delineate criteria for deciding how to use limited resources, so physicians don't have to withdraw life support from any patients. "I doubt there are any doctors in Israel who would be able to do that," she added.
"We desperately need more life-saving equipment," Prof. Sviri emphasized, "both to save the coronavirus patients and to protect the medical teams caring for them. The end is not near."
Watch and learn much more about COVID-19's characteristics and Hadassah's leadership in combatting the disease through testing, treatment, and research.