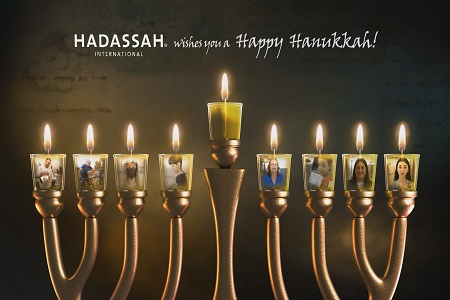 Dear Hadassah International Friends, 
Each day during Hanukkah, we take immense pride in the "intensity of Hadassah's light shining like a beacon from Jerusalem".
With every new video we shared during this festival, we added another miracle for us to all celebrate and rejoice in. 
Each day of Hanukkah 2021 has its own moving and inspiring short video for you to watch. They each feature one of the wonders that are happening in different departments of the Hadassah Hospitals in Jerusalem. 
Please share the Hadassah miracles with your loved ones and spread the light. 
Happy Hanukkah to you all! 
To watch the entire Hanukkah series, please scroll down and click on the below pictures to play: 
* If the English subtitles do not appear: go to the YouTube video and click on the setting icon. 
Celebrating Hadassah Miracles: Hanukkah Series Episode 8
Celebrating Hadassah Miracles: Hanukkah Series Episode 7
Celebrating Hadassah Miracles: Hanukkah Series Episode 6
Celebrating Hadassah Miracles: Hanukkah Series Episode 5
Celebrating Hadassah Miracles: Hanukkah Series Episode 4
Celebrating Hadassah Miracles: Hanukkah Series Episode 3
Celebrating Hadassah Miracles: Hanukkah Series Episode 2
Celebrating Hadassah Miracles: Hanukkah Series Episode 1