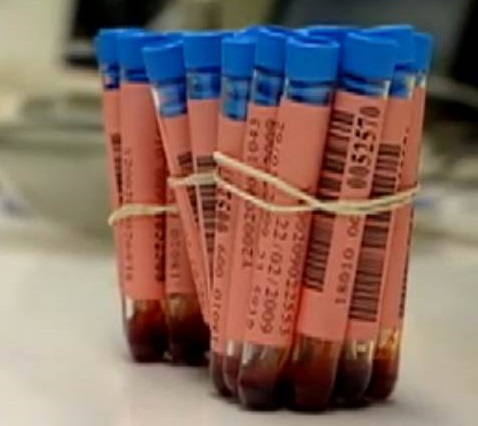 The Facts: Hadassah is the only hospital in Israel with a large frozen store of red blood. Its Blood Bank opened in 1944 and today comprises a Donor Service, a Patients' Service Laboratory, and an Infectious Diseases Laboratory. On 24-hour duty throughout the year, the Bank ensures that Israel has a safe and rapidly available blood supply for both hospitalized patients and those in ambulatory care. The Hadassah Blood Bank is certified by the International Institute of Medical Laboratories. Since 1977, it has been a member of SCARF, the International Rare Blood Exchange Program, shipping sera to 50 blood banks in 10 countries.
An Active Partner in Cutting-Edge Care
With increasingly sick patients managed under increasingly sophisticated regimes, Blood Banks are ever-more active partners in clinical care.
Hadassah's constantly developing blood and transfusion services are among the essentials that underpin the Medical Center's high healthcare standards, in particular with trauma, orthopedic, cancer, and organ transplant patients.
The Medical Center's need for blood is enormous. Continuing advances in medical treatments and procedures that require massive transfusions, combined with an aging population ensures that the demand for blood will continue to climb. While the Bank stocks blood for up to 42 days, with some 250 units always available.
Hadassah Dedicates New Blood Bank, with Help of Hadassah International
The Hadassah University Medical Center Blood Bank, a special fundraising project of Hadassah International, dedicated its newly refurbished and expanded facility in October. "Our standards are very high and the working conditions should be the same," related Dr. Yuval Weiss, Director of Hadassah Hospital-Ein Kerem. Thanks in part to Hadassah International, now they are!
"Like the heart, which pumps blood through our bodies, the blood bank functions around the clock–in normal times and during emergencies," relates Dr. Orly Zelig, head of Hadassah's Grand Rabbin MeyerJais and Daniele Jais Blood Bank, named by Madame Raymonde Jais in honor of her husband and daughter. "Blood is life. Without blood, there is no life," she says.
"Before the blood is transfused, we have to make sure that everything that happens is correct," explains Sigalit Mudahi, PhD, Quality Assurance Manager for all the laboratories in the Medical Center. "Quality assurance involves internal assessments and annual audits to examine all aspects of how the blood is handled," adds Dr. Mudahi. "These reviews help improve the system. We have an outstanding staff and we encourage them to report near-miss events, as we are constantly assessing how good we are at what we do."
"Every mistake could cost a life," notes Prof. Dina Ben Yehuda, head of the Division of Hematology, which relies heavily on the Blood Bank as do the departments of surgery and bone marrow transplantation and the shock trauma unit.
Each year, Hadassah transfuses about 20,000 units of blood and about 50,000 other blood components like platelets and plasma, Dr. Zelig reports. The blood bank supplies 20 percent of the needed red blood cell concentrates, platelet concentrates, and frozen plasmas. The Hadassah Blood Bank is the only blood collection site in Israel other than Magen David Adom. Having an on-site blood bank saves crucial transit time when there is an emergency need for blood products.
Yeshiva students Daniel, Evyatar, and Ori are part of a special group that provides Single Donor Platelets (SDP) for special populations. This means that a particular donor gives platelets to the same patient each time. The yeshiva students come through Zichron Menachem, The Israeli Association in Support of Children with Cancer and their Families. They have committed themselves to supply blood for the Department of Pediatric Hemato-Oncology and provide all the SDP its patients need.
Recently, Dr. Zelig said, they received an urgent request for blood. It was the middle of the night– a weekend night–and the request was for a rare blood type. Quickly scanning the donor list, the staff at the Blood Bank found an appropriate match and immediately arranged to bring the donor from home to Hadassah. "These crises happen four or five times a year," Dr. Mudahi said with a small smile–"usually consecutively."