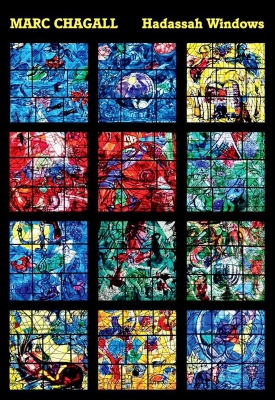 "What took you so long?"
It was an unexpected, yet most welcome, response to a request made of Marc Chagall.
The world-renowned artist interrupted, mid-sentence, an appeal for him to create a piece of artwork for Hadassah. "I've been waiting my entire life to be asked to serve the Jewish people," he continued.
This was the late 1950s. Hadassah Hospital Ein Kerem was still being built. And people were still recovering from the aftermath of World War II and from the War of Independence in Israel.
Miriam Freund, national president of Hadassah USA at the time, had traveled to France with other Hadassah women to make the ask, armed with little hope Chagall would accept. To their surprise and elation, he not only agreed but offered to produce an entire series of artworks, if he had free rein on style and subject.
The end result: 12 magnificent stained-glass windows that dazzle the eye in what is now the Abbell Synagogue at Hadassah Ein Kerem.
These windows were Chagall's window of opportunity to give back to his people — a source of hope and light, illuminating the road taking the Jewish people from difficult times to a brighter future. The windows adhere to his usual color palette of vivid blues, reds, greens, and yellows and the subject of abstract biblical motifs, with each window portraying one of the twelve tribes of Israel from the Book of Genesis.
On March 28, Chagall's yahrzeit, we celebrated the artist for his contribution to Hadassah — a gift of hope that will remain for future generations to see.