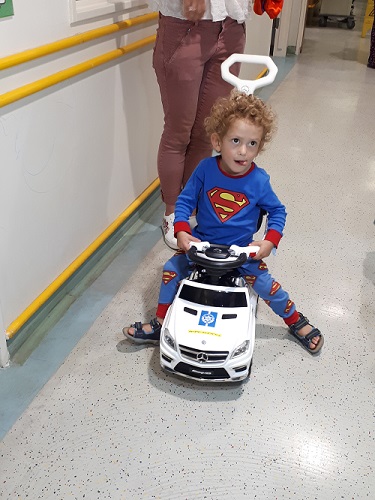 What three-year-old child would want to be wheeled into the operating room on a hospital bed if instead he could arrive on his own set of wheels?
"Surgery isn't fun, but there's no reason the ride to the operating room can't be," comments Dr. Rely Alon, Director of the Hadassah Medical Center's Division of Nursing and Health Professions.
Dan Synett is the first child to arrive at the operating room in Hadassah's new ride-on car. This isn't Dan's first trip to Hadassah's operating room. "Dan was born with a congenital defect in his urinary system that affects his kidneys and bladder," explains Dr. Guy Hidas, Director of Pediatric Urology at Hadassah.  "In severe cases," he says, "this defect leads to kidney failure and requires dialysis and a kidney transplant."
Dan was born via emergency C-section at only 31 weeks gestation. His initial chances of living a healthy life were slim. When Dan was only a few weeks old, he underwent his first surgery. "This one, however, should be his last," says Dr. Hidas.
"As first-time parents, we had no idea how low Dan's chances of survival were," relates Dan's mother, Nadine Synett. "I am so grateful for everything Hadassah did to save him."
Mrs. Synett adds, "Dan received excellent care at Hadassah. Riding to the operating room in a car like grandpa's definitely made the whole experience even better."
דן המתוק יוצא אל חדר הניתוח בהדסה, ומגיע לשם ברכב החדש של גיבורי הדסה: הבימבה המנגנת שלא משאירה אפילו ילד אחד שלא מחייך! כן, גם בדרך לחדר הניתוח…זה ללא ספק הוידאו הכי מתוק שתצפו בו.#חושבים_על_הילדים_בהדסה

Posted by ‎בית חולים הדסה‎ on Monday, July 23, 2018