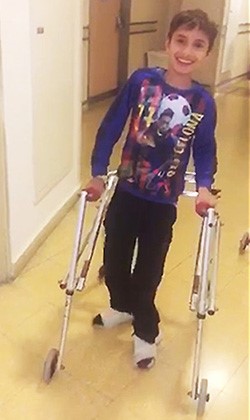 When 11-year-old Joseph (photo) couldn't move his legs as the result of a serious accident, the rescue team knew that his only real chance would be at the Hadassah Medical Center.
The break that Joseph suffered was located in his vertebrae, close to his pelvis. It is this area that provides the strongest support for a child's back. The break could have meant Joseph would spend the rest of his life in a wheelchair as a paraplegic.
The doctors at Hadassah had other ideas.
Dr. Leon Kaplan, Director of Hadassah's Spine Surgery Unit, gathered his team in the hybrid operating room, where they performed the world's second dual robotic surgery, pioneered at Hadassah.
Performed for the first time on a child, the surgery with Zeego and the Mazor, the two robots, was a huge success, as you can tell from Joseph's triumphant smile. The team of doctors at Hadassah and the pair of robots changed Joseph's fate. Today, he continues his rehabilitation, looking forward to an active future.
Join us in helping to ensure that children like Joseph receive the very best of care. Give generously today.