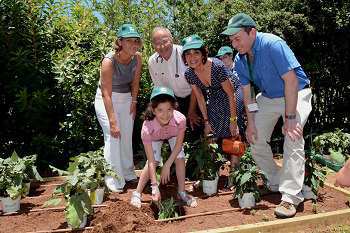 "Seven years ago, I looked out the window and saw rocks and thorns and dirt, said Prof. Eitan Kerem, Director of the Hadassah Medical Center's Division of Pediatrics, at the June 22nd dedication of the Jack and Robert Smorgon Families Foundation Healing and Environmental Garden. "Today," he continued, "we have grass and flowers and a pirate ship and a vegetable garden for our small patients and their families."
Attending the dedication at Hadassah Hospital-Mount Scopus were Jack Smorgon of Australia, family members, Director General of the Ministry of Health Prof. Arnon Afek, and representatives from Hadassah Australia, JNF Australia, KKL-JNF Israel, and Hadassah, the Women's Zionist Organization of America, including National President Marcie Natan.
The garden was spearheaded by a partnership between Hadassah Australia and Kerem Kayemet L'Yisroel (KKL)/Jewish National Fund (JNF) Australia "to provide a sanctuary of calm, of light, of beauty, for those children who are facing serious, long-term illness, so that they can connect with nature, sit under a blue sky with family and friends, and leave a troubled world behind–even for just a few minutes a day."
"You in faraway Australia," Mrs. Natan noted, "have worked hard to show generations of people here in Jerusalem, particularly the unfortunate children who have chronic diseases, that people thousands of kilometers away care about making their lives better. This garden is an important reflection of Hadassah's humane mission within Jerusalem's unique heterogeneous population."
She added: "I look out at you and see donors who are privileged to be able to bring healing to the children of Israel. "We thank you in their names."
Jack Smorgen spoke about the perfect fit of this project with the goals of the Smorgen Foundation, which focuses on community, environmental issues and, above all, children. Hadassah-Mt. Scopus Director Dr. Osnat Levtzion Korach brought out that the garden would be an icebreaker among the different patients and their parents, who would mingle there. In addition, when possible, treatment will be given to the children in the garden.
"The garden surpasses any expectations I had," said Jerusalem Mayor Nir Barkat. "Such tranquility amidst one of the best hospitals in the world"! Praising Hadassah's service to the community, both in medical treatment and research, the Mayor commented that Hadassah's medical excellence was one of the reasons Jerusalemites want to live in the united city.
A highlight of the dedication ceremony was the singing of the Australian National Anthem and Waltzing Matilda by Gideon Aroni, who donated the monetary gifts from his Bar Mitzvah celebration to the healing garden.