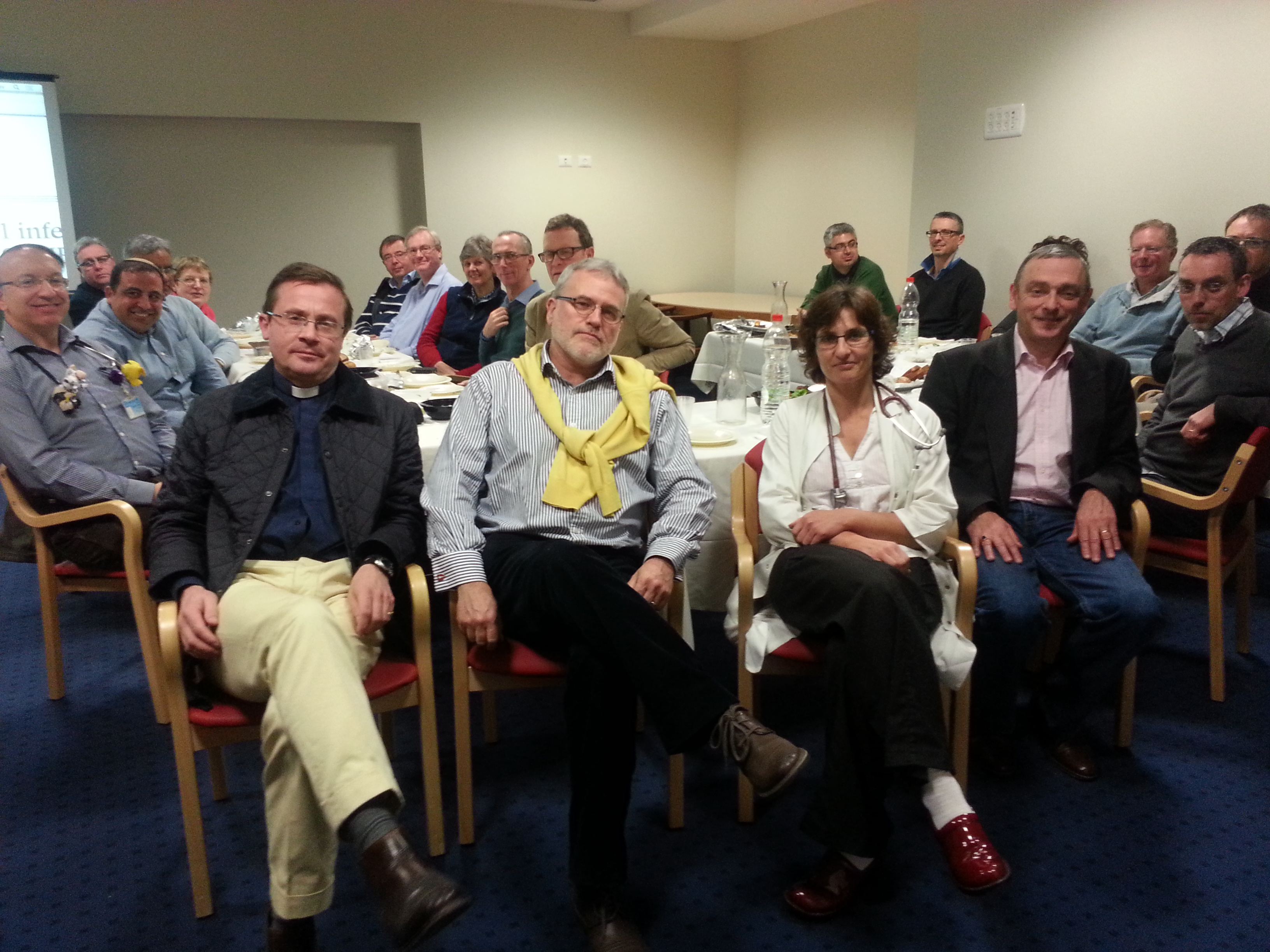 As part of a fact-finding tour emphasizing the relationship between Israelis and Palestinians, the Chief Executive of Christian Friends of the United Kingdom, Jacob Vince, along with a delegation of non-denominational Christian laymen and clergy, visited the Hadassah Medical Center.
Dr. Gila Elinav, Director of Hadassah's HIV-AIDS Unit, updated the delegation as to the strides being made in treating HIV-AIDS at Hadassah and, particularly, Hadassah's outreach to the Palestinian medical community. Dr. Elinav briefed them about two colloquia she had organized: one with Jerusalem family physicians and the second, with West Bank hospital personnel and other doctors from the Palestinian Authority. "Because of the taboos in discussing AIDS and the assumption that their patients wouldn't have been exposed to AIDS," relates Dr. Eliav, "Palestinian family physicians might not be looking for it." Yet, she brings out, when patients are diagnosed on time, AIDS becomes a chronic disease and patients have the same average life expectancy as those who don't have AIDS. "We have had several cases of Arab patients arriving here with advanced disease and increased chances of mortality," she says. By the same token, she notes that she has found that Palestinian medical colleagues do not take the same precautions that Israeli physicians do to protect themselves from needle pricks or accidental cuts when working with AIDS patients.
Hadassah's AIDS unit treats 400 patients a year, with an additional 40 children being treated in the Pediatric Aids Unit. "We were consulted about a very sick Arab baby, who was born in a different hospital," said Dr. Elinav. "It turned out that the baby was HIV positive and further investigation revealed that both parents had AIDS and didn't know it."
The delegates also learned about Hadassah's sperm-cleansing program for men with AIDS, as well as the precautions taken during childbirth when delivering the baby of a woman who has AIDS–both of which have resulted in children being born free of the virus.
Broadening the delegates' perspective, Dr. Michael Wilchanski, Hadassah's British-born Director of Pediatric Gastroenterology, discussed his own near-daily interaction with Palestinian physicians, who often consult him or send seriously ill patients to the hospital for treatment.