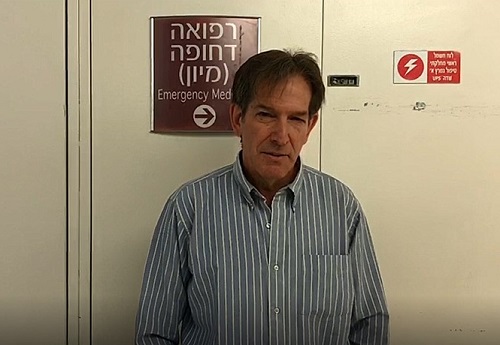 Early this morning Boris Gustav Welberada  36, a civilian security guard, was stabbed in the hand while guarding Karemei Tzur, a residential area near Gush Etzion. He was rushed to Hadassah Hospital Ein Kerem and treated at the Swartz Center for Emergency Medicine. Dr. Shai Luria, a hand specialist, operated on him.
As shown in the photo above, Prof. Rami Mosheiff, head of the hospital's orthopedic trauma center, briefed the press on the condition of the victim. He said the guard was undergoing testing to determine if he would retain full function of his hand. "The terrorist stabbed him in the palm of the hand. Other than that, he's perfectly healthy," Mosheiff said. "I'm optimistic about his hand. His nerves are functioning, but we're still in the process of checking it out."
Welberada moved to Israel from Ecuador ten years ago and is a married father of five.
The terrorist, Hamzeh Yousef Zamaareh, 19, who had arrived at the scene by car, was shot and killed by a second guard.