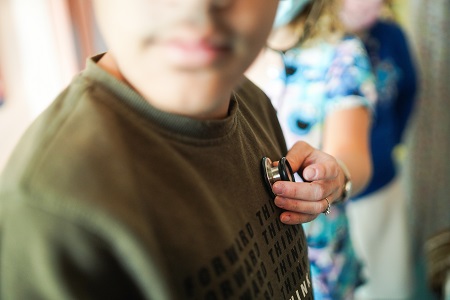 In Israel, half of the year's injuries from cleaning supplies occur in the weeks before Passover as Jews prepare their homes for the holiday.
"The biggest problem with cleaning supplies is liquid grease-remover that is left unsupervised, even for just a few minutes," says Dr. Saar Hashavia, director of pediatric emergency medicine at Hadassah Hospital Ein Kerem. These supplies can be highly toxic and cause burns, internal bleeding, and respiratory and gastrointestinal problems, among other conditions.
"We get a case every day close to Passover," says Dr. David Rechtman, Dr. Hashavia's counterpart at Hadassah Hospital Mount Scopus. "Adults pour liquid cleaners into cups and then leave the cups around, or they clean the kettle and forget to wash out the chemicals."
And, as Muslim women and girls don their hijab headscarves for the iftar festive meal during Ramadan, the decorative stick pin used to fasten the hijab has become a potential health hazard. Girls are swallowing them when they put them in their mouths as they wrap the hijab. Hadassah pediatric gastroenterologist Dr. Mordechai Slae is the lead author of a paper published in Pediatrics, the official journal of The American Academy of Pediatrics, about the prevalence of ingestion of these pins and how to treat patients who have swallowed them. The authors reviewed 1,558 cases of patients who came to Hadassah's emergency room after ingesting a foreign body. Of these, 208 patients (13.3 percent) had ingested a hijab pin, with a total of 225 ingested pins. "The mean patient age was 14.7 ± 4.1 years, and 88 percent were girls," the researchers report. While in most cases, these girls can let nature take its course, the physician/researcher team found that 41 patients required an endoscopy to remove the pins, and one required laparoscopic surgery.