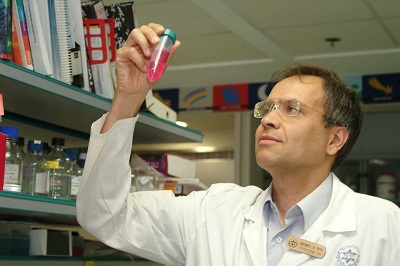 Jerusalem's Cell Cure Neurosciences, whose mission is to become a leading supplier of human cell-based therapies for the treatment of retinal and neurodegenerative diseases, has received approval from the United States Food and Drug Administration (FDA) to conduct a clinical trial to treat the dry form of age-related macular degeneration (AMD) with OpRegen®, a first-of-its kind animal product-free, retinal pigment epithelial (RPE) cell formulation derived from human embryonic stem cells (hESCs).
"This is a significant milestone for our company and in the broader development of therapies based on human embryonic stem cells for the treatment of major diseases," notes Prof. Benjamin Reubinoff, Director of the Hadassah Medical Center's Human Embryonic Stem Cell Research Center and Chief Scientific Officer of Cell Cure. "We look forward to initiating this first-of-its-kind study and to continuing the clinical development of OpRegen®."
"Cell Cure's Phase I/IIa study of OpRegen® has been designed to provide preliminary, objective functional and structural data on the ability of hESC-RPE cell transplantation to slow the progression of geographic atrophy (dry-AMD), in addition to safety data," explains Prof. Eyal Banin, head of Hadassah's Center for Retinal and Macular Degeneration. Prof. Banin, together with Prof. Reubinoff, helped develop this novel treatment over the last decade. "We are truly excited that this unique, hESC-based therapy will finally be tested in patients with dry-AMD, which severely impacts the quality of life of the elderly, and for which no approved therapy yet exists," Dr. Banin added.
Dry AMD is the leading cause of visual impairment and blindness among the elderly in the US and other developed countries. While treatment options exist for the treatment of the wet form of AMD, 90 percent of all patients with AMD have the dry form. As Cell Cure's website explains: "The root cause of dry-AMD is believed to be the dysfunction of RPE cells. Therefore, one of the most exciting new therapeutic strategies for dry-AMD is the transplantation of healthy young RPE cells to support and replace those lost with age. Pluripotent stem cells, such as hESCs, can potentially provide a means of manufacturing such healthy RPE cells on an industrial scale."
Cell Cure will conduct this clinical trial with 15 patients at the Hadassah Medical Center, where OpRegen® will be transplanted as a single dose into the subretinal space of the patient's eye to test the product's safety and efficacy. The trial will evaluate three different dose regimens of 50,000 to 500,000 retinal pigment cells. Patient enrollment is expected to begin following approval of the trial by Israel's Ministry of Health.
Following stem cell transplantation, the patients will be followed for 12 months at specified intervals to evaluate the safety and tolerability of OpRegen®. A secondary objective of the clinical trial will be to examine the ability of transplanted OpRegen® to engraft, survive, and induce changes in visual acuity. In addition to thorough characterization of visual function, a battery of defined ophthalmic imaging modalities will be used to quantify structural changes.
Preclinical studies at Hadassah with mice have shown that following a single subretinal injection of OpRegen® as a suspension of cells, the cells can rapidly organize into their natural monolayer structure and survive throughout the animal's lifetime. Cell Cure reports that OpRegen® is anticipated to be an "off-the-shelf" product that would be provided to retinal surgeons in a final formulation ready for transplantation. Unlike treatments that require multiple, frequent injections into the eye, such as currently marketed products like Lucentis and Eylea for wet-AMD, it is expected that OpRegen® would be administered in a single procedure.
More information about the trial will be made available on the US National Institutes of Health's website at http://www.clinicaltrials.gov/ct2/home as well as Cell Cure's website at http://www.cellcureneurosciences.com