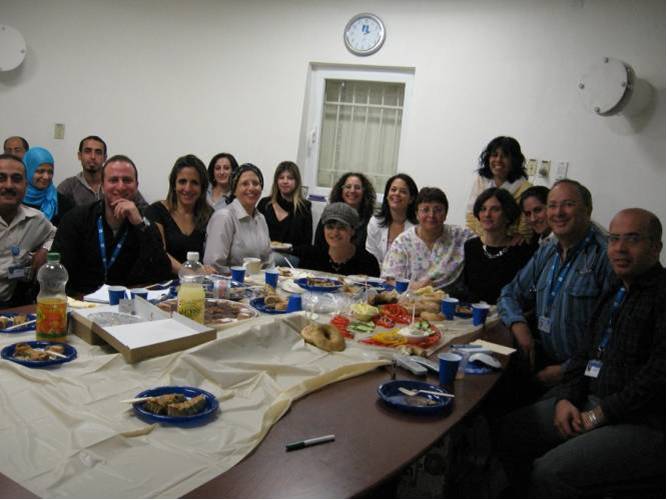 Pictured above:  Hadassah established a Cystic Fibrosis center in Gaza in 2010.
With treatment advances in Cystic Fibrosis (CF) extending the duration and quality of life for many patients in developed countries, Hadassah CF specialists are reaching out to close the gap for CF patients in low-income countries.
As Hadassah's physicians explain in Lancet, individuals with CF who live in low-income settings tend to have a worse clinical outcome than those from more affluent areas because lack of resources puts optimum care out of reach. They are diagnosed at a later age and exhibit more compromised lung function and inferior nutritional status (a function of both the children's poorly balanced diets and the malabsorption that is characteristic with CF patieints). Current CF care guidelines, generally designed to be used in developed countries, the authors explain, include treatments not available in resource-poor settings.
Hadassah's physicians report that "on the basis of our experience caring for Palestinian patients living in the West Bank and Gaza, and our involvement in projects in countries with limited resources in South America and Eastern Europe, we believe that treatment strategies for CF can be adapted to improve longevity and quality of life for patients living in resource-poor countries." The improvements, they explain, are based on early diagnosis, treatment at specialized CF centers, affordable nutritional optimization, airway clearance treatments, infection control, and lower-cost drug delivery systems. Early diagnosis, the specialists note, can be achieved through awareness campaigns that are targeted to the medical community and the general public.
The authors emphasize that compliance is also an important variable. Once diagnosed, they advocate, the patient should be referred to a multidisciplinary CF center which, at a minimum, should include a physician, nurse, dietitian, and physiotherapist with expertise in CF. Hadassah helped to set up a CF Center in Gaza, Uruguay, and Chile.
In emphasizing the value of comprehensive CF centers, the authors bring out that these centers, where staff share the same ethnic origin and cultural background as their patients, can overcome many of the challenges of patient compliance by offering empathetic and culturally appropriate care. The authors caution, however, that "a substantial gap remains between resource-rich and resource-poor countries, where the costs of drugs fall heavily on a patient's family. The approach we have detailed does not equalize health disparities between rich and poor countries, but it does advance the goal of equitable health care as a basic human right. Even slight improvements in CF health-care delivery in resource-poor regions are worthwhile because they are a movement in the right direction."
At the same time, they state: "The true breakthrough in confronting CF will only occur when everyone with this disease, no matter where he or she lives, can expect to achieve a normal life expectancy and quality of life."