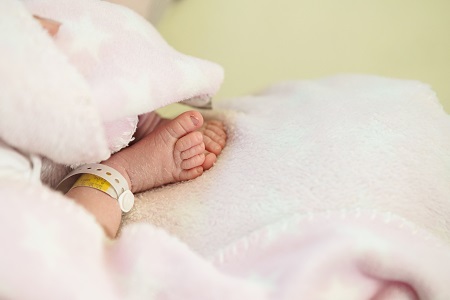 The ceasefire was still tentative when the mom from Gaza arrived at Hadassah Hospital Ein Kerem with her small and sickly infant. There was something wrong with her heart, the doctors in Gaza had told the mother. This mom had already lost one child to illness. Contact had been made with Hadassah. The Christian organization Shevet Achim had arranged transportation and would foot the bill.
The frail baby, named Alma, was quickly taken to the Cardiac Critical Care Unit. The mom, exhausted from childbirth, the tension, and the journey, expressed relief that she was at Hadassah. Surgery was scheduled for the following day but had to be delayed when little Alma's condition worsened.
It turned out that Alma did not have a single problem with her heart but three different serious malformations. Surgery was high risk. The staff of the cardiac unit, under the direction of Dr. Uri Pollak, stabilized her. The first surgery took place last week with good results. Cardiothoracic surgeon Prof. Eldad Erez said Alma's condition is among the most challenging but she's doing well.
The head of the unit for pediatric cardiac care is Dr. Sagi Gavri, who lives with his wife, Orna, and their two sons on Kibbutz Nir Am on the Israeli side of the border with Gaza. Theirs was among the first homes hit by the recent rocket fire from Gaza and is undergoing repair.
"This has been a difficult time for my family," says Dr. Gavri, who has treated hundreds of Palestinian children. "We continue our life-saving work. The children are not to blame."