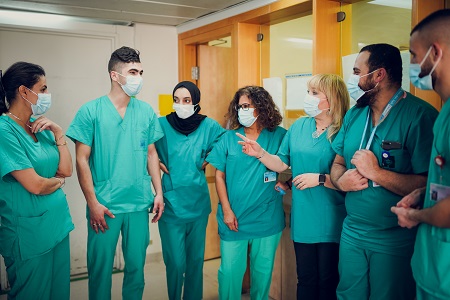 In honor of this year's World Health Day on April 7, Prof. Sigal Sviri, director of the Hadassah Medical Organization's COVID-19 Intensive Care Unit (ICU), shared seven lessons she and her colleagues have learned during the pandemic:
Be flexible. At Hadassah, the ICU management team has had to increase and decrease beds in the unit overnight, borrowing staff from other hospital departments as needed.
Treat, test, treat differently. Treatments have to be adjusted rapidly as knowledge grows about their lack of efficacy or potential for harm. "Most of the drugs we started giving in the beginning, we stopped giving by the end."
Invest in the ICU. "Without the ICU, we cannot save lives; we just cannot."
Elective care is not optional. "If you do not retain elective activity, you get collateral damage." People die or become very sick when they don't receive treatment in time.
Train the next generation. "We need to train doctors and especially nurses to treat critically ill patients."
Families matter, too. At the beginning of the pandemic, hospitals were so focused on treating COVID-19 patients that family members were forgotten. Hadassah developed ways to communicate more often with family members and to allow them to visit their loved ones.
Success is achieved by working together. "We worked in unison supporting each other. This was one of our greatest achievements."
Read the full story in The Jerusalem Post.
Main picture caption: Prof. Sigal Sviri (third from right) among some staff members of the COVID-19 Intensive Care Unit (ICU) that she is leading.