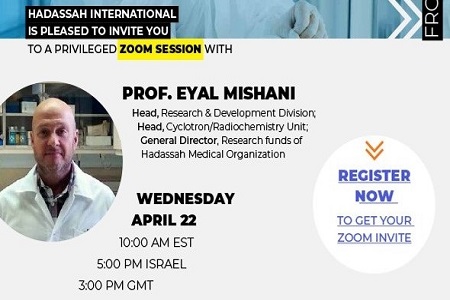 Dear Friends,
We have the great pleasure to invite you to the next Hadassah International Special Webinar dedicated to the subject of Coronavirus Research at Hadassah.
The webinar will take place on Wednesday, April 22nd, 2020 from 10 am EST / 5 pm Israel time and feature our special guest, Director of the Research & Development Division of Hadassah Medical Organization – Prof. Eyal Mishani (bio below).
This event will also function as a press release so we encourage you to invite your local and international press.
We would also like to ask you to share this particular opportunity with your family members, your friends & acquaintances and even Press representatives.
Be advised that participants must register in advance by clicking on the event poster or the FOLLOWING LINK. The Zoom link and call-in numbers will be provided after registration.
Important: Please note that Prof. Eyal Mishani cannot offer personal advice on an individual health matter. We will leave time at the end of the call for questions. It's a challenge to facilitate these types of calls, with participants from all over the world, and the only method for ensuring a smooth process is to gather registrations and engage an outside firm to manage the call overall as well as the Q&A session.
Looking forward to your participation at our webinar!
Prof. Eyal Mishani is the Director of the Research & Development Division of Hadassah Medical Organization (HMO); the Director-General of the Research Fund of the Hadassah Medical Organization (RFHMO) and the Director of Cyclotron / Radiochemistry Unit of Hadassah Hebrew University Hospital.
Born in Israel in 1963, married with two children. Received his Bachelor's degree in Chemistry from Tel Aviv University with Distinction. In 1994, Mishani received his Ph.D. degree with Distinction from Tel Aviv University. 1994-1996, he completed his post-doctoral fellowship at Washington University, St. Louis, MO, in the field of PET molecular imaging.
During his postdoctoral fellowship, he designed the PET/Radiochemistry Laboratory at Hadassah/Hebrew University Hospital in Israel. Beginning of 1997, he returned to Israel to establish the first PET Cyclotron facility in Israel in which he presently serves as Director of the Unit. Upon his return to Israel, he pioneered the production and distribution of PET radiopharmaceuticals which completely transformed the clinical diagnostic approach in Israel. In 2010, Mishani completed the installation of a second Cyclotron and a microPET/CT (the first in Israel) at Hadassah Hospital. Since 2012, he served as an expert in the field of quality management in Nuclear Medicine at the International Atomic Energy Agency. Prof. Mishani established the research fund as an independent legal entity and today there are over 250 research employees with multi-million dollar funds for research projects.
His main research aim is to develop molecular imaging methodologies to explore the in–vivo mechanism of various biochemical processes under normal and pathological conditions and translate them into the imaging of diseases. In this context, he has pioneered several basic and comprehensive research projects encompassing various fields of nuclear medicine molecular imaging.
Prof. Mishani has more than 130 peer-reviewed publications and five patents in the field of imaging protein tyrosine kinases and AR in cancer and MPI. Most importantly, the research on imaging EGFR in cancer was a pioneering endeavor from which several research reports have emanated by others throughout the years.