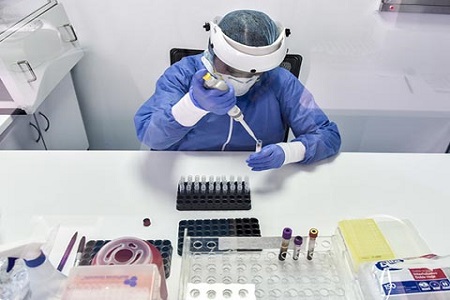 The first treatment of its kind, based on human plasma collected from COVID-19 recoverees, and manufactured by the Israeli biopharmaceutical company Kamada, was introduced during August at Hadassah Hospital Ein Kerem.
All patients who received the experimental treatment while hospitalized in the isolated outbreak disease complex at the hospital demonstrated immediate improvement in their health condition and were released to their homes on average two days later.
Hadassah continues to collect plasma from COVID-19 recoverees who have been tested and found to have a high concentration of antibodies to the coronavirus following their recovery.
Word of the need for donations was spread by the Yad Avraham organization mainly in Jerusalem, leading to a mass influx of plasma donors, who were previously ill and subsequently sought to help other patients dealing with the illness.
These donations from Hadassah, as well as from Magen David Adom and other hospitals, were provided to Kamada, which specializes in the development, production, and marketing of plasma-based products.
During September, the company reported the completion of recruitment and preliminary interim results in a phase 1/2 open-label, single-arm, multi-center clinical trial in Israel, testing its anti-SARS-CoV-2 plasma-enriched antibody (IgG) as a therapeutic option to treat COVID-19.
Kamada reported that the study is designed to examine the safety, pharmacokinetics (PD), and pharmacodynamics (PK) of the company's plasma-based IgG antibody preparation in COVID-19 patients hospitalized with non-respiratory pneumonia.
Twelve patients aged 34 to 69 were recruited for the study, of whom eight were treated at Hadassah, the remainder at other hospitals. They were treated with a single dose of four grams of the preparation within five to 10 days of the onset of COVID-19 symptoms. According to the procedure, observation of the patients will last 84 days, even after their discharge from the hospitals.
The company reported that improvement in symptoms was observed in 11 of the 12 patients within 24 to 48 hours of treatment. All 11 of these patients were discharged some 4.5 days after treatment (median figure).
Hadassah Medical Organization Director-General Zeev Rotstein comments, "Plasma donations from COVID-19 recoverees are collected at Hadassah in light of our initiative. Members of the public come forward with impressive volunteering spirit and a desire to donate to save others and to enable the development of the treatment. We hope that every person who has fallen ill and recovers will be tested for suitability as a donor and will be our partner in a journey filled with giving, humanity, and love of humankind."
Kamada emphasizes that the main results of the clinical trial are expected to be published in January 2021.